Experience, Explore & Appreciate Art
ArtCrawl Harlem 2021
Boundaries & Connections Artist Studio Tours
2021 ArtCrawl Harlem Boundaries & Connections Artist Residency is
Dedicated to the Memory of
Artist, Timothy Fowlkes
ArtCrawl Harlem extends a hear felt thanks to Christine Fowlkes and her family for their donation to ArtCrawl Harlem in support of our Boundaries & Connections 2021 Artist Residency Program.  
ArtCrawl Harlem is honored to memorialize Timothy Fowlkes, a native of New Jersey he was a beloved son, brother, and friend.  he share is talents with the community Harlem in 1997 when he and Shirley E. Johnson created the beautiful murals which are still on display at Edward P. Bowman Park at 52 West 129th Street.
Thank you once again for your generous donation and your continued support of the arts and artists in our community.
Celebrate NYC Immigrant Heritage with (G)eneration Project and ArtCrawl Harlem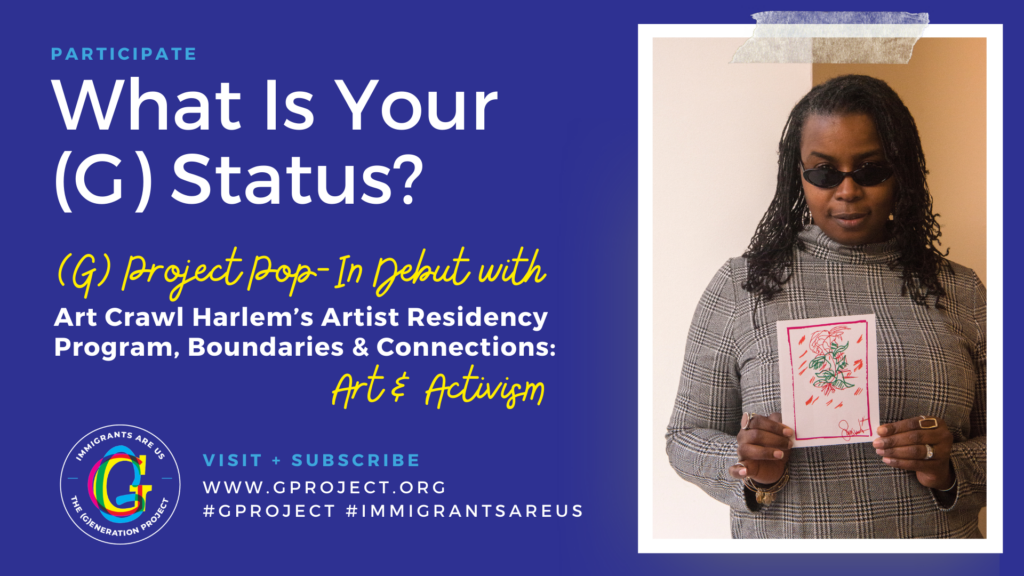 The (G)eneration Project debuts the (G) Pop-In "What Is Your G Status?" Virtual Event to Celebrate NYC Immigrant Heritage Week, on on Saturday, April 17, 2021 from 1:00 pm – 2:00 pm EDT on the (G) Project YouTube Channel (YouTube @GProject_org).
Immigrant Heritage Week, an annual city-wide celebration honoring the experiences and contributions of immigrants in New York City, is a rich collection of free events and programs that build cross-cultural understanding between diverse New Yorkers.
The virtual Pop-In event on April 17th invites the public to learn how to determine your (G) Status, to hear from the (G) Project team about why the mission, initiatives and future plans are so relevant to the landscape of immigration, and to visit Governors Island and "pop-in" to discover and participate in our interactive art installation.
Alternatively, virtual visitors can participate directly on the (G) Project website. The (G)eneration Project is a public art campaign to celebrate the idea that we are ALL immigrants, gproject.org.
RSVP Here: GenerationProjectIHW2021.eventbrite.co
We celebrate the continuing legacy of art in Harlem
ArtCrawl Harlem Inc., a New York State non profit, founded in 2008 as Harlem's first trolley car guided art tour and later incorporated as an educational non-profit art gallery tour in 2016. ArtCrawl Harlem's mission is to support and promote Harlem's creative community and historical legacy through dynamic arts, cultural programs, and educational initiatives.
We want to share Harlem with YOU.
Funders and Community/Business Partners
Stay in Touch With ArtCrawl Harlem
Experience, Explore & Appreciate Harlem
Photos of ArtCrawl Harlem Events