Experience, Explore & Appreciate Art
"Three Little Birds" Art Installation
Artist Talk with Mixed Media Artist, Cat Schmitz
Artist Talk with Writer, Missy Burton
Discussing her Process when Writing
Her New Book; "Echoes of the Past: Big Mama"
BANJEE BOOMBOX
AN LGBTQ+ HIPHOP 50 CELEBRATION
Saturday August 5, 2023, 1:00pm - 8:00pm
"For Venus & Serena" Art Installation
Artist Talk with Mixed Media Artist, Theda Sandiford
SAFE PASSAGE IV
a Short Film by Heather Williams
ARTCRAWL HARLEM 2023 ARTIST RESIDENCY PROGRAM
MAY 5 - NOVEMBER 5, 2023
THEME: BOOMBOX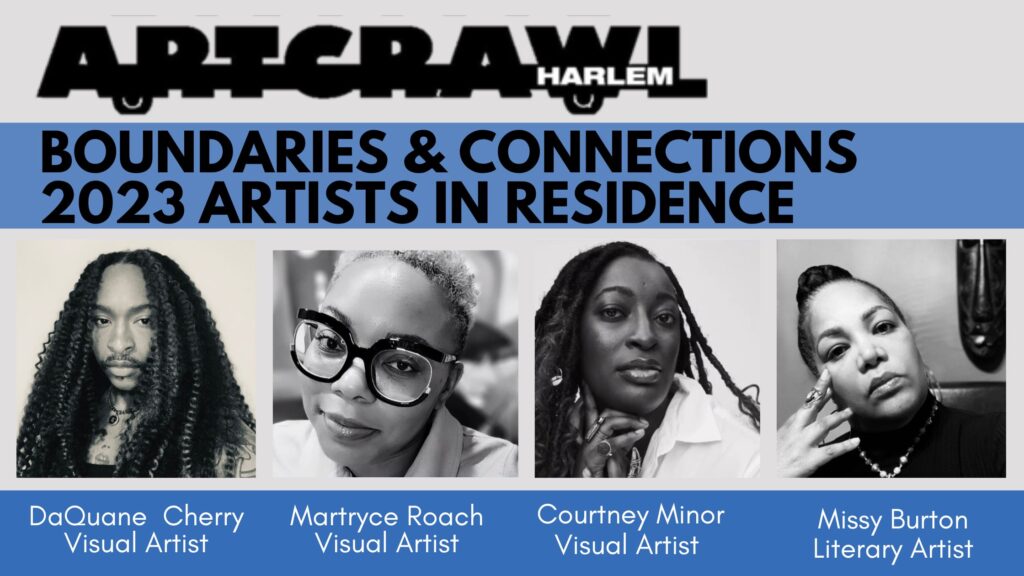 ARTCRAWL HARLEM 2023 VISUAL ARTISTS IN RESIDENCE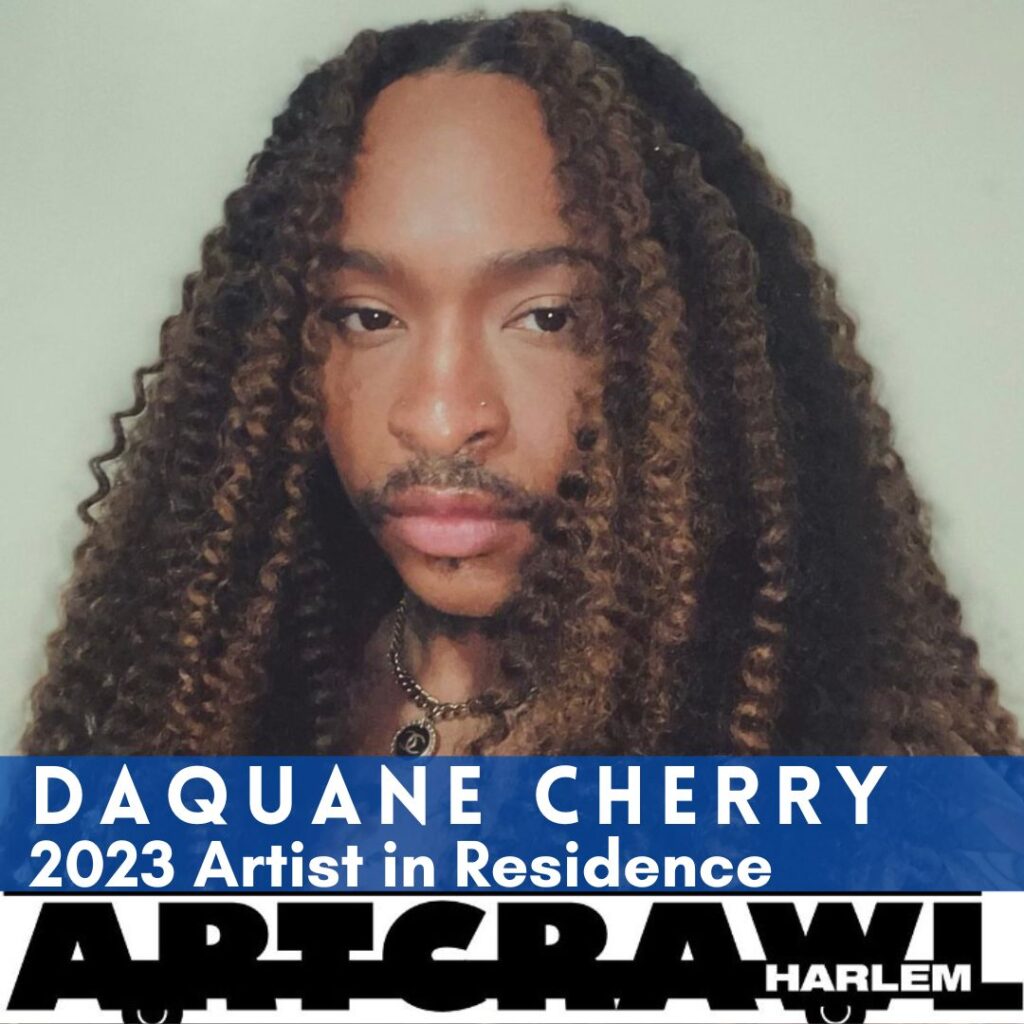 DaQuane Cherry is a self-taught artist of 7years.  He moved to New York City as only the age of 19 to pursue his career as an artist.  Born in Elizabeth City, North Carolina, Cherry experienced a history of trauma and family challenges.  He expresses his point of view through triumph, therapy and emotional movement.  His work creates space for wonderful memories that were born through challenges a and unsure circumstances.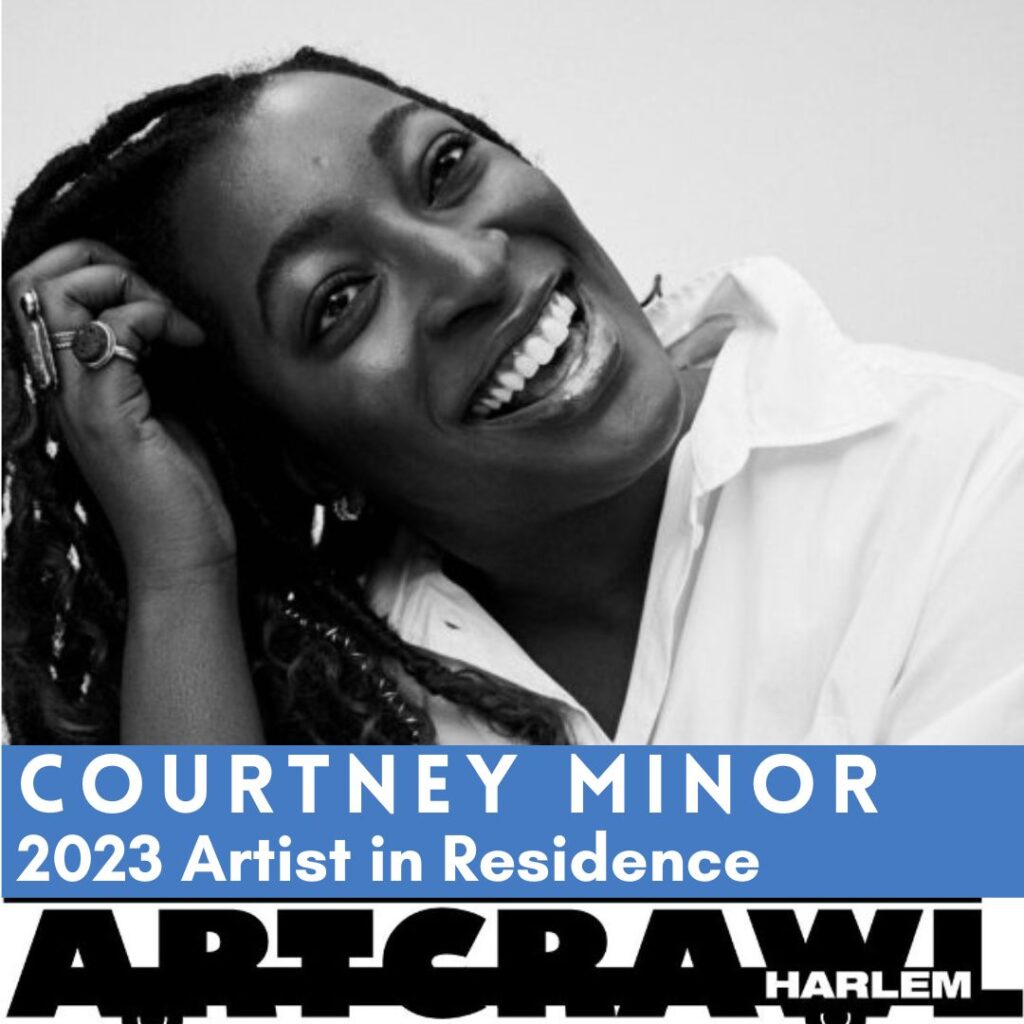 Courtney Minor is a self-taught mixed media collage artist and photographer who spent most of her life researching people and how they express themselves.  She took a decade long break from creating anything only to have it come bursting to the surface years later. Now she cannot stop creating and she does not want to. To see more of her work, please visit her art Instagram at @theronimart and for her photography, visit @virginias.daughter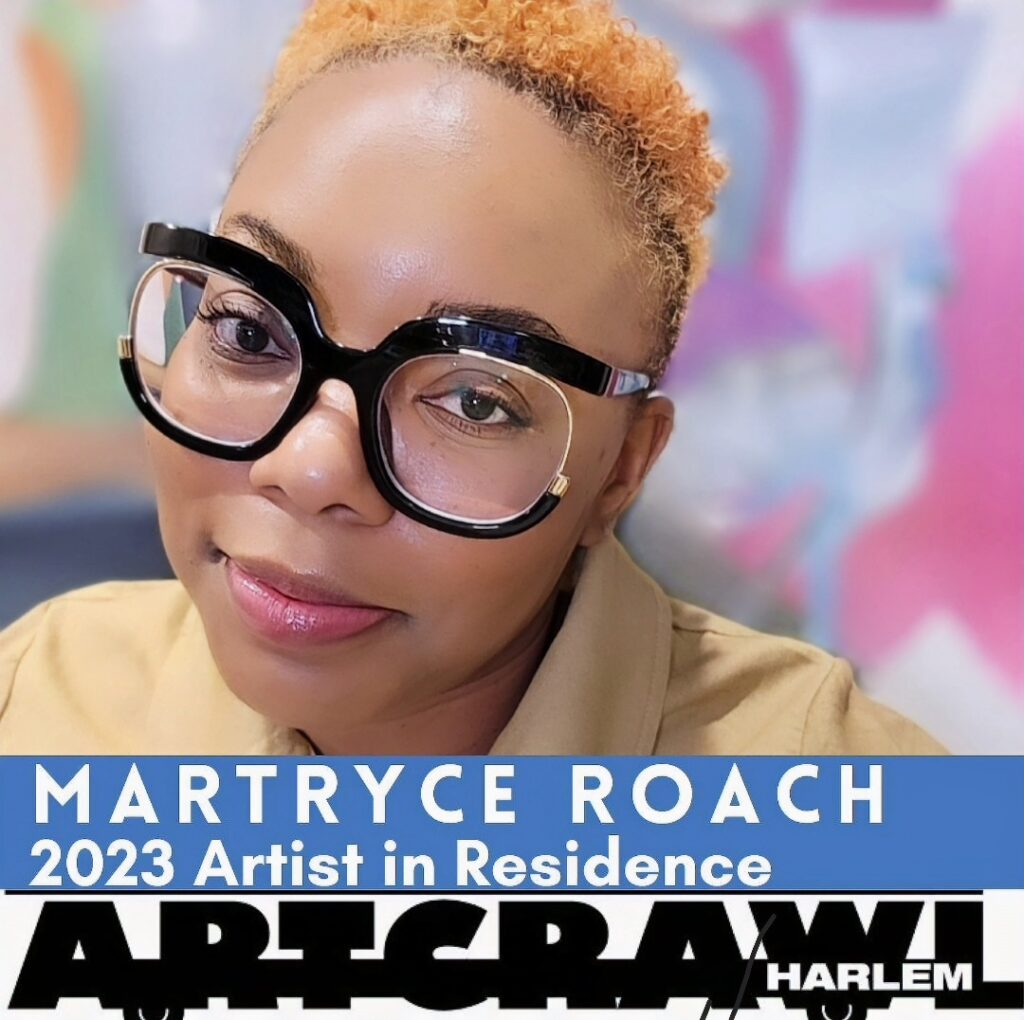 Martryce Roach is a visual artist from New Brunswick, NJ.  She first introduced her work in 2014 at The House of Art in her hometown.  Her works are bright, fresh, current, and cultured.  Martryce incorporates elements of music, education, geometric shapes, and environment to construct art stories that speak to the human experience, particularly as it relates to African American culture.
Martryce Roach earned a Bachelor's Degree in Public Health and Africana Studies and a Master's Degree in Social Work.  Working with people, resolving problems, advocating for change, fighting against injustice, teaching coping skills, and inspiring resilience have shaped a lot of the context for this artist's work.   
In 2020, Martryce presented over twenty new pieces of art in a solo exhibition, entitled, "Transcendence", at the Bridge Art Gallery in Bayonne, NJ.  Her work has also been exhibited at The Freehold Art Gallery, Above Art Studios, The Moody Jones Gallery, The Akwaaba Gallery, Art150 Gallery, the Cement Gallery, the Kente Royal Gallery, Firmament Gallery and New Jersey State Museum for the New Jersey Arts Annual: Reemergence.  In 2022, Martryce was awarded a Fellowship Grant from the New Jersey State Council on the Arts. 
ARTCRAWL HARLEM 2023 LITERARY ARTIST IN RESIDENCE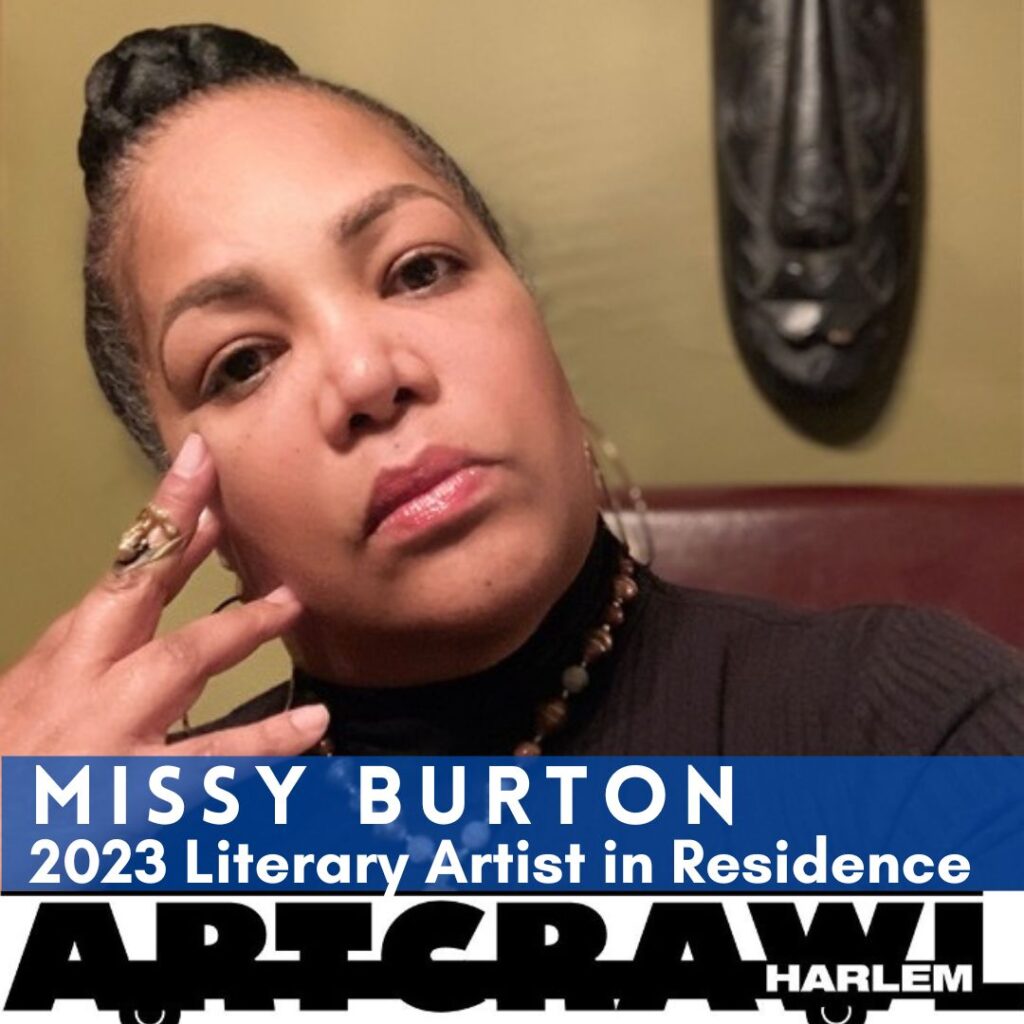 Missy Burton is an award-winning photographer and the author of "I Am Woman: Ode to the Female Essence. Burton creates expressive imagery that consistently explores the past, present and future effects of social influences on human rights. Missy Burton with her husband , are the Co-Founder of Msanii HOUS Fine Art in Dallas, Texas.
RESIDENCY PROJECT: While in residency my project will be work on my new book titles "Big Mama". This book will tell the story of three women; my grandmothers and my great-grandmother. My maternal great-grandmother was a strong black Indian woman. She was a single parent to seven children. She felt that a man was like a bus, if you miss one you catch the next one. My maternal grandmother had a similar opinion though she was twice married. She raised my mother and her brothers on the salary of a domestic even managing to put my mother through college. My paternal grandmother was very different. Her life revolved around my grandfather. Everything she did she did it to please him.
All of these women played a significant role in my life growing up and I will write a story that speaks to the essence of who they were. I will restore/repurpose old photos of them and create a narrative for each photo that tells a cohesive story.
Conceptually I would like to lay it out like Roy Decarava & Langston Hughes' "The Sweet Flypaper of Life". As a black photographer I want my legacy to be one filled with photographs and stories that not only validate we were here and we were thriving, loving, and living life to the fullest.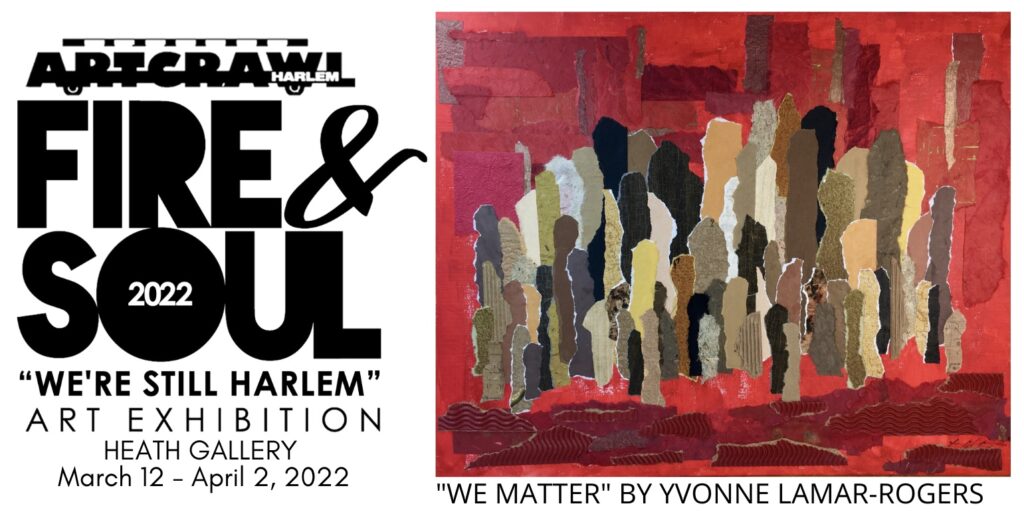 ArtCrawl Harlem is pleased to announce Fire & Soul 2022: "We're Still Harlem" Art Exhibit, at Heath Gallery, New York from March 12 – April 2, 2022.
Harlem's vibrant history and influence stretches far beyond the five boroughs. The music, art, culture, social life, food, fashion, politics and businesses that have originated in Harlem have had a profound impact on the world stage for generations. This is the magic of Harlem –it's Fire & Soul. Even when the world is dim, bleak and uncertain, the hearts, souls and resilience of Harlemites burns bright. Our Fire & Soul 2022 exhibition exemplifies this very statement. The exhibit features 10 multi-generational artists whose work embodies the notions of beauty, joy, and connection. Let this exhibit provide you strength, optimism, connection, and hope during these remarkably challenging times wherever you find yourself.
The 3 -week-long exhibit will feature various media including paintings, sculpture, collage, abstract and mixed media art. The roster of featured artists includes Bianca Allen, Jazzmine Bustamante, Jonte Drew, Yvonne Lamar-Rogers, Demarcus McGaughey, Kenwyn Murray, MarkAnthony McLeod, Erica Morales, Cj Priester, and Heather Williams. 
Co-curated by Saundra Heath, Heath Gallery director and co- owner and Fable Jones Studios the exhibit features art inspired by the search for joy, beauty and connection in the midst of uncertainty and change.
"This collaboration with Art Crawl Harlem and Fable Jones Studio is a full circle moment and exactly the vision that the original founders had. Bringing established and emerging artists and art professionals together to impact our community. I'm very happy to still be here 20 years in and carrying forth our shared vision and intention," shared Saundra Heath.
The Featured Fire & Soul 2022 Artists
Fire & Soul 2022 Programs
ArtCrawl Harlem
2021 Artist in Residence
on Governors Island
We celebrate the continuing legacy of art in Harlem
ArtCrawl Harlem Inc., a New York State non profit, founded in 2008 as Harlem's first trolley car guided art tour and later incorporated as an educational non-profit art gallery tour in 2016. ArtCrawl Harlem's mission is to support and promote Harlem's creative community and historical legacy through dynamic arts, cultural programs, and educational initiatives.
We want to share Harlem with YOU.
Stay in Touch With ArtCrawl Harlem
Experience, Explore & Appreciate Harlem
Photos of ArtCrawl Harlem Events