Experience, Explore & Appreciate Art
ArtCrawl Harlem 2023
Artist Residency Program Application
Governors Island, NYC
May - October 2023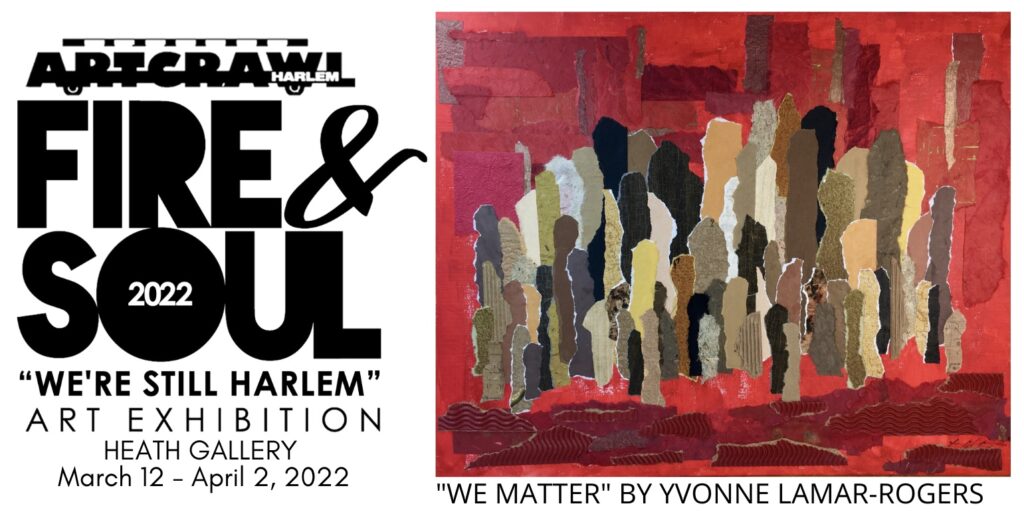 ArtCrawl Harlem is pleased to announce Fire & Soul 2022: "We're Still Harlem" Art Exhibit, at Heath Gallery, New York from March 12 – April 2, 2022.
Harlem's vibrant history and influence stretches far beyond the five boroughs. The music, art, culture, social life, food, fashion, politics and businesses that have originated in Harlem have had a profound impact on the world stage for generations. This is the magic of Harlem –it's Fire & Soul. Even when the world is dim, bleak and uncertain, the hearts, souls and resilience of Harlemites burns bright. Our Fire & Soul 2022 exhibition exemplifies this very statement. The exhibit features 10 multi-generational artists whose work embodies the notions of beauty, joy, and connection. Let this exhibit provide you strength, optimism, connection, and hope during these remarkably challenging times wherever you find yourself.
The 3 -week-long exhibit will feature various media including paintings, sculpture, collage, abstract and mixed media art. The roster of featured artists includes Bianca Allen, Jazzmine Bustamante, Jonte Drew, Yvonne Lamar-Rogers, Demarcus McGaughey, Kenwyn Murray, MarkAnthony McLeod, Erica Morales, Cj Priester, and Heather Williams. 
Co-curated by Saundra Heath, Heath Gallery director and co- owner and Fable Jones Studios the exhibit features art inspired by the search for joy, beauty and connection in the midst of uncertainty and change.
"This collaboration with Art Crawl Harlem and Fable Jones Studio is a full circle moment and exactly the vision that the original founders had. Bringing established and emerging artists and art professionals together to impact our community. I'm very happy to still be here 20 years in and carrying forth our shared vision and intention," shared Saundra Heath.
The Featured Fire & Soul 2022 Artists
Fire & Soul 2022 Programs
ArtCrawl Harlem
2021 Artist in Residence
on Governors Island
We celebrate the continuing legacy of art in Harlem
ArtCrawl Harlem Inc., a New York State non profit, founded in 2008 as Harlem's first trolley car guided art tour and later incorporated as an educational non-profit art gallery tour in 2016. ArtCrawl Harlem's mission is to support and promote Harlem's creative community and historical legacy through dynamic arts, cultural programs, and educational initiatives.
We want to share Harlem with YOU.
Stay in Touch With ArtCrawl Harlem
Experience, Explore & Appreciate Harlem
Photos of ArtCrawl Harlem Events