2021 & 2020 Boundaries & Connections Artist Residency Programs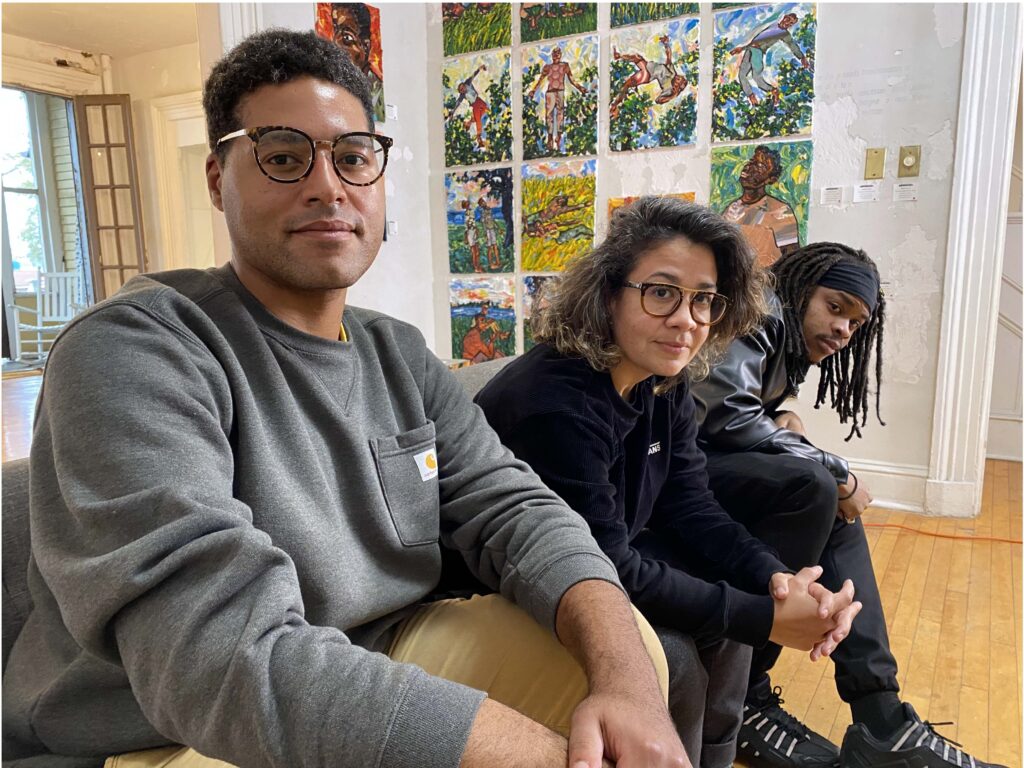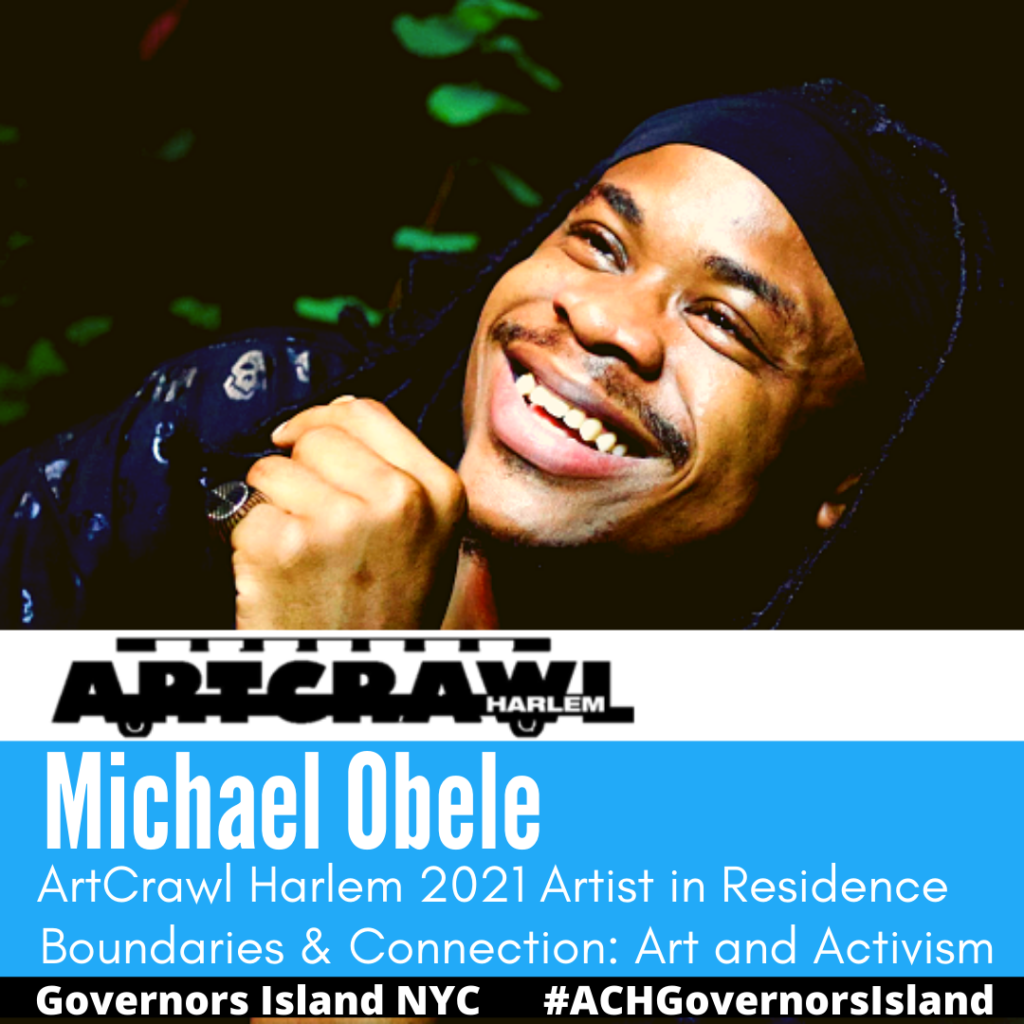 Michael Obele is originally from Lagos, Nigeria he relocated to the United States and currently  resides in Bronx, NY.  He is a  multi-talented portrait artist with concentration in in charcoal and graphite pencil and a photographer.  He describes his work as hyper-realistic with meticulous attention to detail. In the past decade he has harnessed and evolved his skills as a full-time professional artist.  In addition to arts he is avidly involved in aspects entertainment as he is a proud ambassador of the Afrobeatz music genre. 
His mission is to use his art as a conduit to promote positive relationships and build bridges between black people in the United States, the motherland Africa and all over the world.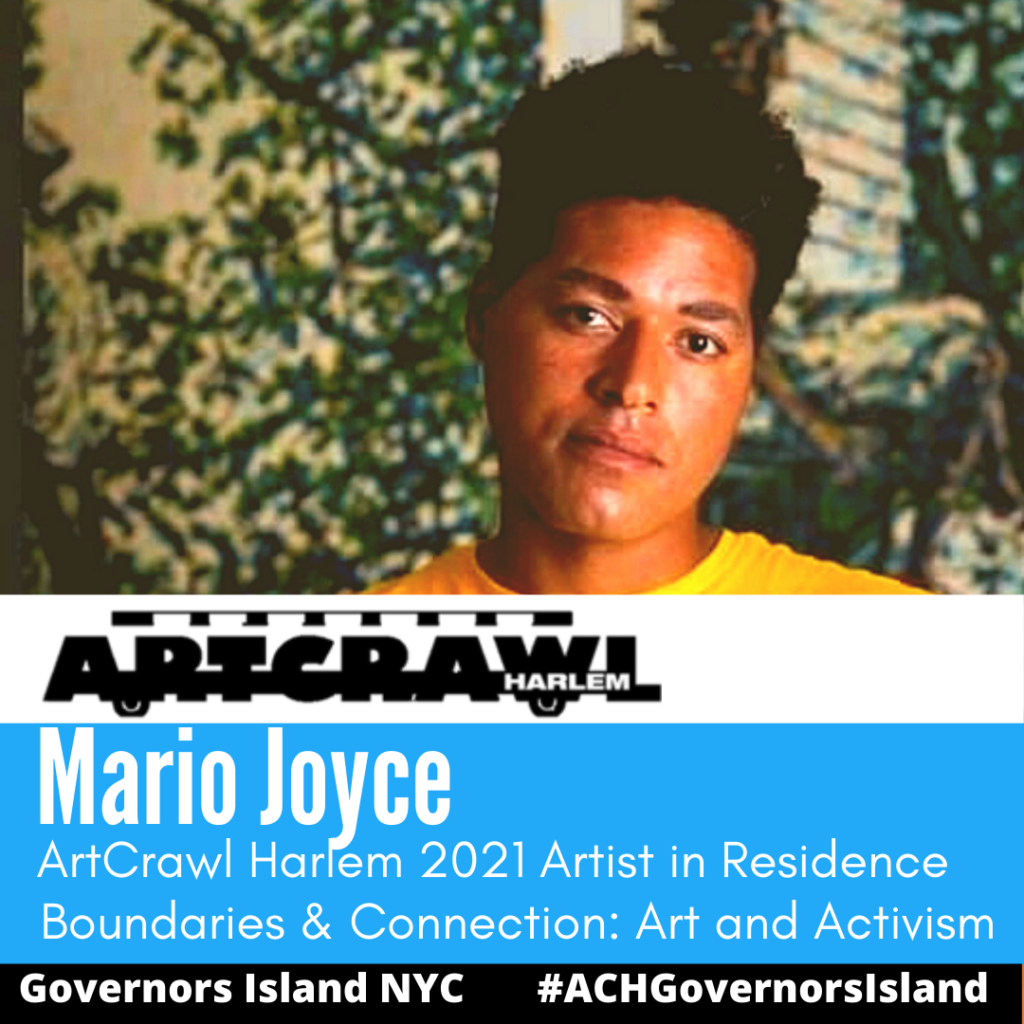 Mario Joyce Belyusar is a self-taught African American artist living in New York City. His artistic process began early and was heavily influenced by religious and racial prejudice experienced in rural Ohio. He began using both genealogical research and paint to further understand and share the social history of discrimination. After a moving to New York City, he is furthering his studies in the African diaspora and how American History is steeped in selective storytelling that neglects to share the experiences of marginalized communities. His work is characterized by vibrant colors, strong line and heavy texture. A collage of vintage materials is typically a part of his process. Mario has exhibited his work in many group exhibitions, including most recently at ArtCrawl Harlem's Fire 7 Soul: 100 Years of Harlem at Kente Royal Gallery, at PRIZM Art Fair in Miami, Florida and will be a part of Caribbean Art Fair in Barbados in Spring 2021. His work is privately owned by many collectors throughout the U.S. "I collage vintage materials as a background for landscapes and figures in oil paint that create an open dialogue with our Ancestors." Mario is specifically interested in the African American experience and social injustice within the Black community. His work is intended to create a bridge between our ancestor's experiences and our familiar contemporary existence. He believes that without an understanding of our past, we have no real grip on the present, so his working process begins with genealogical research. One of his recent paintings "Strange Fruit" was made in response to black men dying by the hands of police and white supremacy. "It is my intention, in this piece, to take back that narrative and memorialize the countless black bodies that have risen and now navigate a higher plane".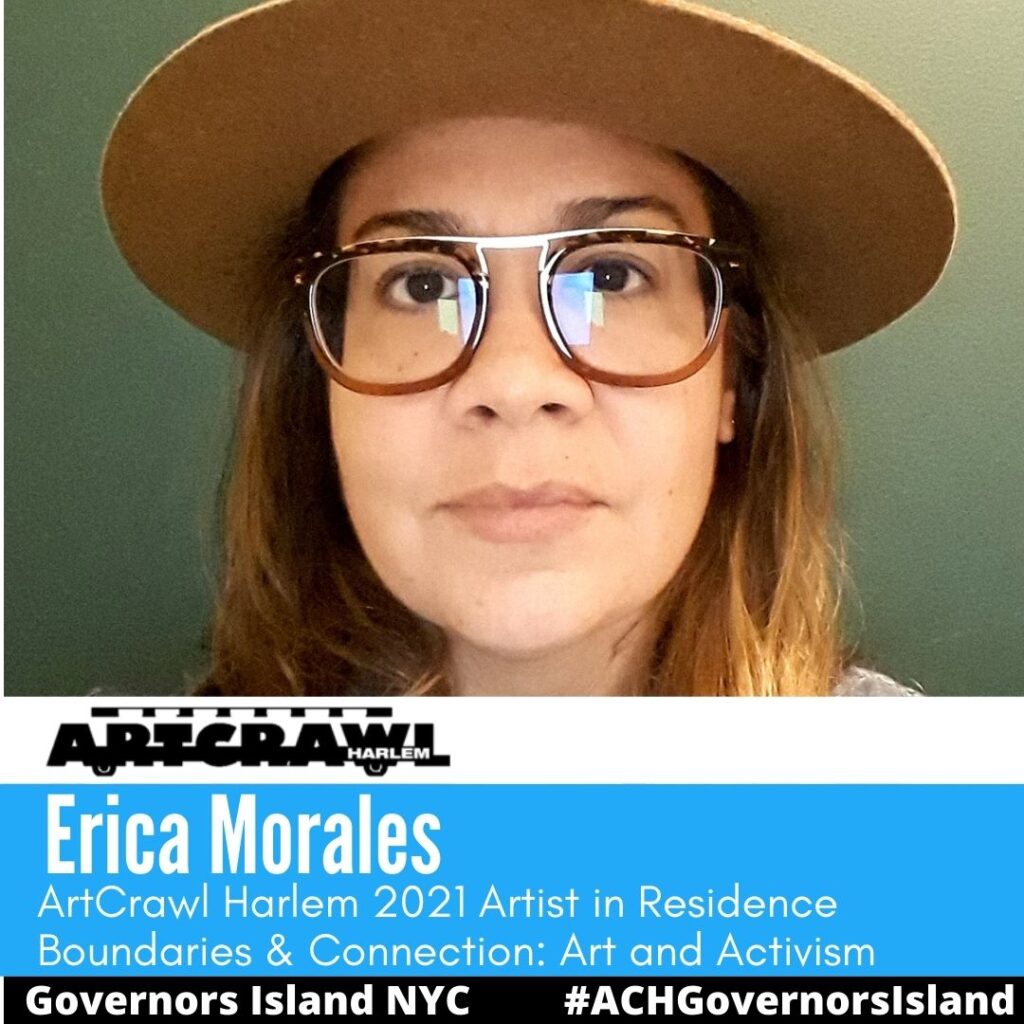 Working in higher education since 2002, Morales' professional background addresses critical areas in higher education such as LGBTQ services, multicultural affairs and academic affairs. The primary focus of her work has been on advocating for vulnerable populations, supporting and serving communities of color. 
In the 1980's, Morales witnessed the devastation of the Bronx fires and the crack cocaine epidemic which displaced many Latinx and African American families including her own. Both of her parents were incarcerated at different times in her life.
As a child, art became a way to leave her surroundings. She worked with a pen or pencil on notebook paper. She referred to comic books and graffiti art. She was also influenced by the hip hop rhymes and beats. During her early teens, Morales started to document her abuela through drawing. Her abuela became her muse posing in her home batas. 
Morales' work is autobiographical and inspired by the perseverance of spirit individually shared by Latinx and people of color in her community. Inspired by personal and cultural experiences- her work focuses on illuminating and interpreting moments of strength, love, and community. She relies on her collection of family and personal photographic portraits to focus her lack of memories. She interprets the images through drawings on paper by celebrating the energy, phenotypes, through the many hues of people of color.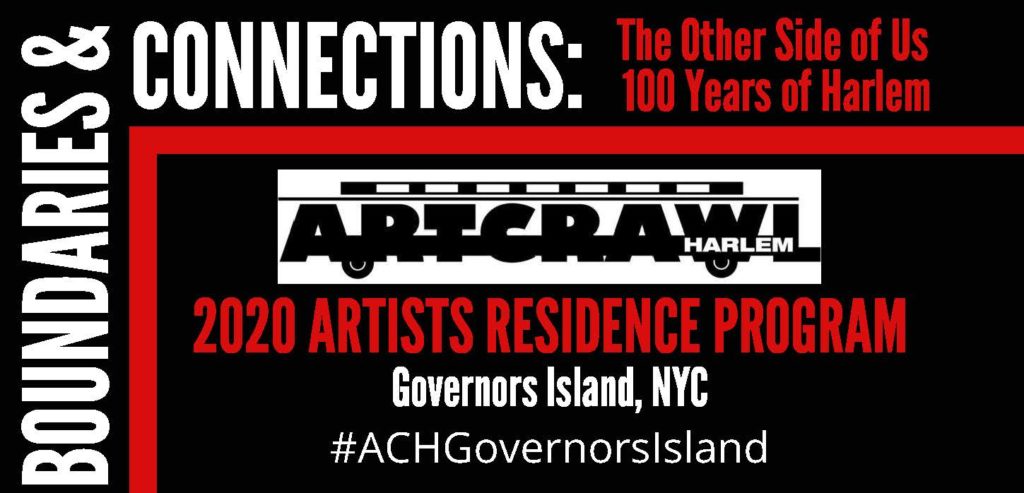 ArtCrawl Harlem has proudly awarded Ricky Day, Lisa DuBois and Demarcus McGaughey, three deserving NYC based artists with the opportunity to participate in "Boundaries & Connections: The Other Side of Us (100 Years of Harlem)" Artist in residency Program on Governors Island. From August 15 to November 1, 2020 our artists will receive a stipend, free daytime workspace on Governors Island in one of the historic houses in the Nolan Park districts for 1 and half months each. Artist will have access to Governors Island's expansive landscapes as a resource to retreat and reflect on their practices. In addition, ArtCrawl Harlem and the Artists will work together to produce online public programming such as virtual studio tours and live-streamed engagement to share the work created while in residence, their process and who they are as an artist.
The year 2020 marks the celebration of Harlem Renaissance (HR) centennial. The global influence of Black people in America is undeniable. Harlem stands as a culture capital within that admission; music, politics, religion, dance, food, fashion, literature, pan-Africanism, linguistics, gentrification, police brutality and more has and been experience or finds its birthplace within the neighborhood of Harlem.
With that in mind Boundaries and Connections Artist in Residence will consider the past 100 years of Harlem as inspiration for their work. From the 1918 pandemic and "The Great Migration" which preceded the HR when Black people moved to the north seeking opportunity and changing the economic and cultural fabric of America to the Black Lives Movement and COVID-19 pandemic. Through their mixed media art, the artist will explore Harlem's shifting boundaries, community histories and connections that have socially and culturally impacted New York City and beyond.
The Trust for Governors Island granted ArtCrawl Harlem the use of a Colonel Row house on Governors Island for the Boundaries Connections Artist Residency Program.

Ricky Day Artist Statement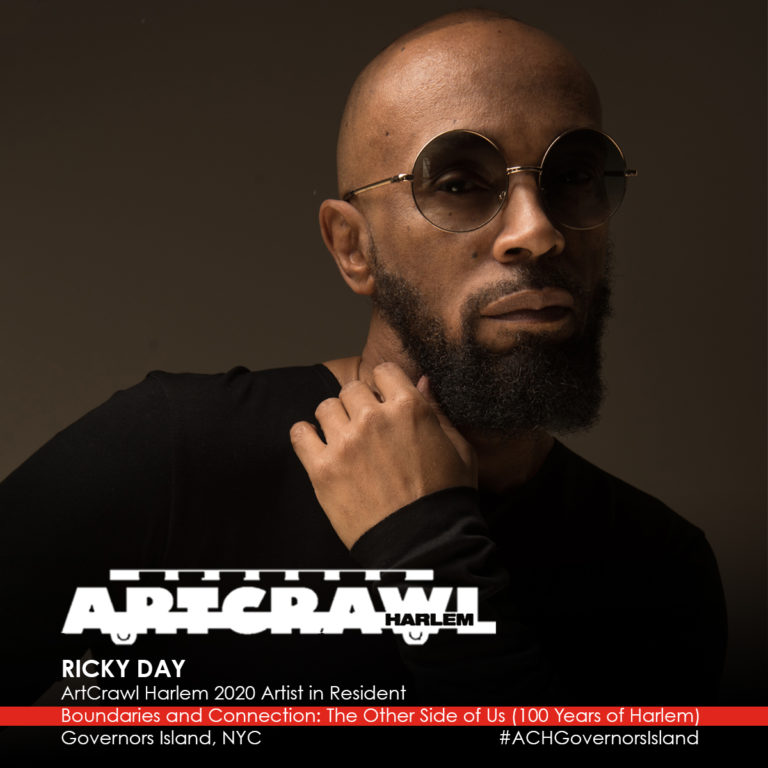 Boundaries and Connection: The Other Side of Us (100 Years of Harlem) is a wonderful opportunity to dive deep into the people, history, myth, legend, reality and hope that is Harlem, NY.

Harlem is a victory in the midst of a perceived defeat. Harlem is an idea that became legend. Harlem is a dream that created a reality. Harlem is a microcosm of the lived experiences of an equal part oppressed and yet triumphant and transcendent people. I am an artist and human being who has personally experienced the place and the idea called Harlem from a unique perspective. I've experienced it as a transplant who arrived with a dream. I've experienced it as a resident who is committed to building and serving the community. Most of all I experience Harlem as the space that inspires and nourishes my call as an artist and a black king and fuels my vocation as a man of faith intent on living the life I was created to live.

I bring to the program a deep and abiding awareness of how Harlem has been perceived around the world and gratitude for the privilege of living in Harlem today. I'm humbled by the opportunity to be a part of the current chapter in its storied history, and the responsibility to be my authentic self while using my artistic gifts to create works that engage the viewer and inspire us all to embody the idea of service to humankind and to be conscious partners in the ongoing process that is creation.
Lisa DuBois
Artist Statement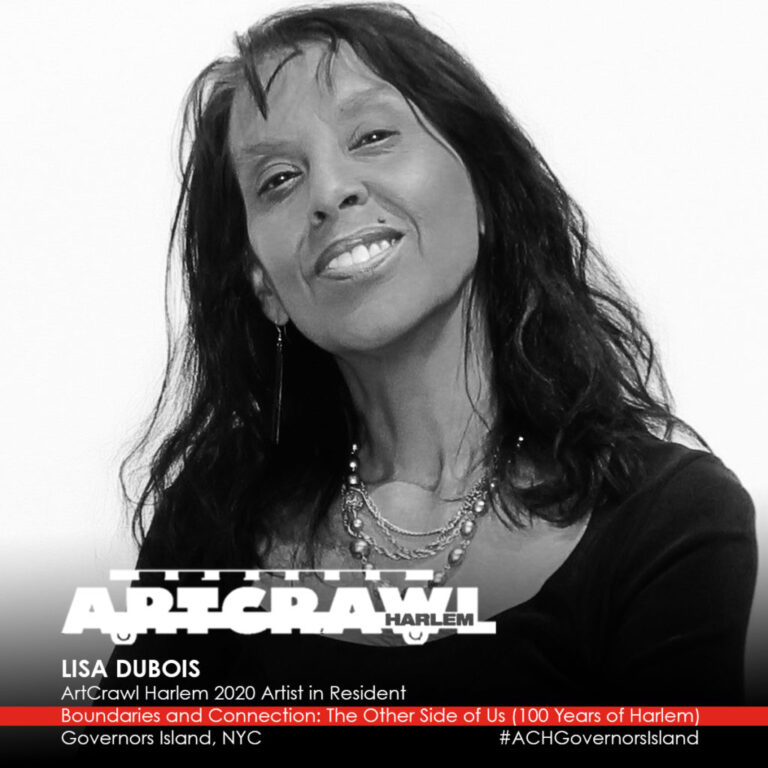 I was born and raised in Harlem. As a child growing up in Harlem, I am reminded of what my community used to be like pre-gentrification. Boundaries remind me of the invisible railroad track that separated Harlem from the rest of Manhattan. The Connections between neighbors were the deep, long lasting and strong relationships. Harlem was a place where everyone in my building knew each other by name. Early on I was acutely aware of the two different worlds when my mother would take me out of Harlem to go or to go shopping for clothes in Herald Square during holidays.

Black Harlem was born through a series of events, the most significant being the Great Northward Black Migration. This historic event was the movement of 6 million African Americans out of the Southern states to the North and Midwest. X slaves and descendants of slaves on the quest for freedom wanted to escape the grim memories of the South and many found themselves in Harlem in a segregated Manhattan, The lesser of 2 evils.

The shared struggles and complicated pasts drew people together to share music, poetry, dance literature and fashion. This period, between the 1920s–1930s was the dawning of a new age is known as The Harlem Renaissance. This was a time when anything was possible in the minds and hearts of people which was the mindset needed to enter the civil rights era.

We are in the midst of a global pandemic and the collective consciousness of the world has changed. Art is our symbolism for this era. My artistic contribution to the Boundaries and Connection: The Other Side of Us (100 Years of Harlem) speaks to the truth that has emerged through a series of unexpected events in 2020.
Demarcus McGaughey
Artist Statement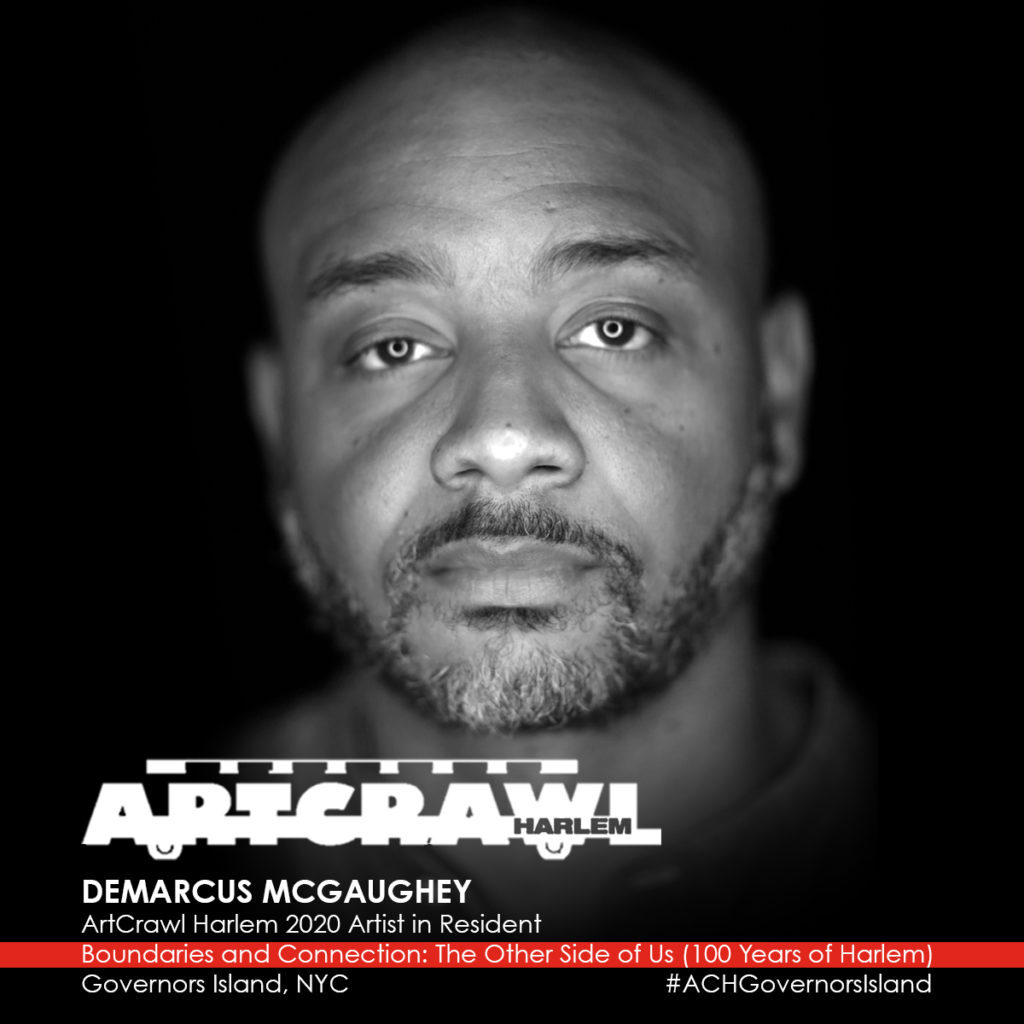 I am a Black Southern Artist who migrated to New York on the hopes of living the Black American Dream. Growing up in Dallas, Texas there was something that always attracted me to New York. I used to read Jet and Ebony Magazine and see visuals of positive, affluent African Americans living in Harlem. On Saturday nights, I would sit with my family and we would watch Showtime at the Apollo. I would sit on the floor in amazement of black people taking the risk to go after their dreams to be famous and sharing their gifts with the world. This inspired me and I thought to myself I want to be an empowered, positive black man living in New York sharing my gifts as well. I have to experience this place for myself. If you can make it in New York, you can make it anywhere was my motto.

When I think of Boundaries and Connections: The Other Side of Us 100 Years of Harlem, I think about the celebration of The Harlem Renaissance, the celebration of blackness, history, politics, churches, fashion, beauty and freedom to be expressive and authentic. My personal definition of boundaries are guidelines an artist creates to identify ways to evoke expressions towards their art and how viewers will respond and it's the artists' duty to push them pass their limits. In other words, to create art that belongs, art that is part of the world we are living in.

Through creative narratives, it's my intentions to create art that will connect people to the beauty, power and culture of Harlem and transcend across the world. Giving my viewers the experience to look deeply and think about their own dreams, their history, their friendships and family, their interpretation of their American Dream.