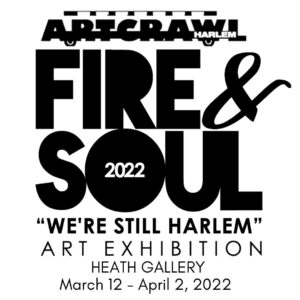 Harlem's vibrant history and influence stretches far beyond the five boroughs. The music, art, food, fashion, worship and political leadership that have originated in Harlem have had a profound impact on the world stage for generations. This is the magic of Harlem –it's Fire & Soul. Even when the world is dim, bleak and uncertain, the hearts, souls and resilience of Harlemites burns bright. Our Fire & Soul 2022 exhibition exemplifies this very statement. The exhibit features 10 greater New York based and multi-generational artists whose work embodies the notions of beauty, joy, love and connection. Let this exhibit provide you strength, optimism, and hope during these remarkably challenging times wherever you find yourself.
Curated by Saundra Alexis Heath and Fable Jones Studios, the 3-week long exhibit will feature paintings, sculpture, collage, abstract and mixed media art. The roster of featured artists includes Bianca Allen, Jazzmine Bustamante, Jonte Drew, Yvonne Lamar-Rogers,Demarcus McGaughey, Kenwyn Murray, MarkAnthony McLeod, Erica Morales, Cj Priester, and Heather Williams. 
Funding and support provided by:  Fire & Soul 2022 is made possible in part with funds from the Upper Manhattan Empowerment Zone (UMEZ), New York City Dept of Cultural Affairs and New York State Council on the Arts.
Sephina Spirit; An unforgettable spirit delivering both warmth and richness for a luxurious taste conceived around the inspirational life of the legendary entertainer Josephine Baker and the Roaring Twenties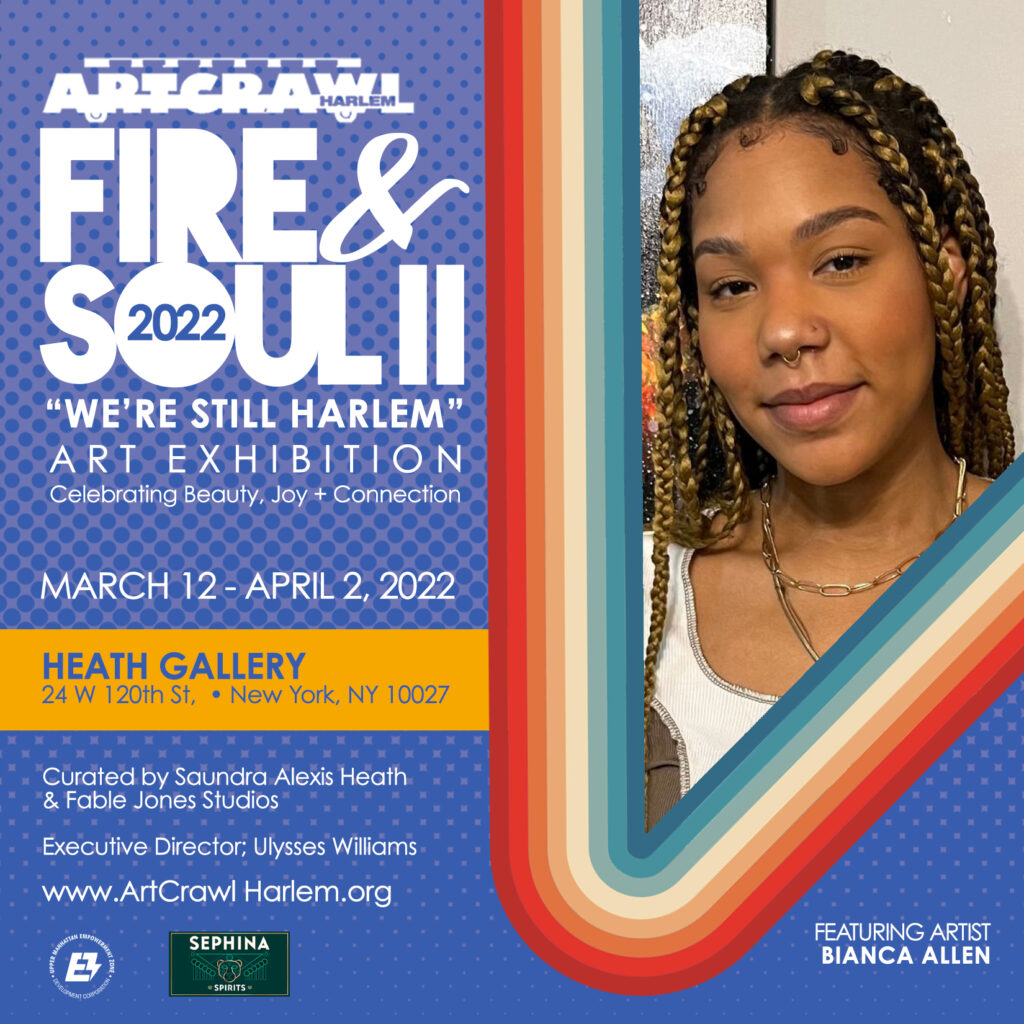 Bianca Allen was born and raised in Roxbury, New Jersey. Soon after graduating from County College of Morris and William Paterson University, she earned a Bachelor's Degree in Fine Arts. She was offered a job as a second-grade teacher and relocated to Harlem to fulfill this duty. After a year Bianca was promoted to lead art teacher in Brooklyn, where she leads art classes currently. In October 2020, she also started her first business Yankaa's Palette which has allowed her to provide paint and sip services for all types of parties and special events across the Tri-State area.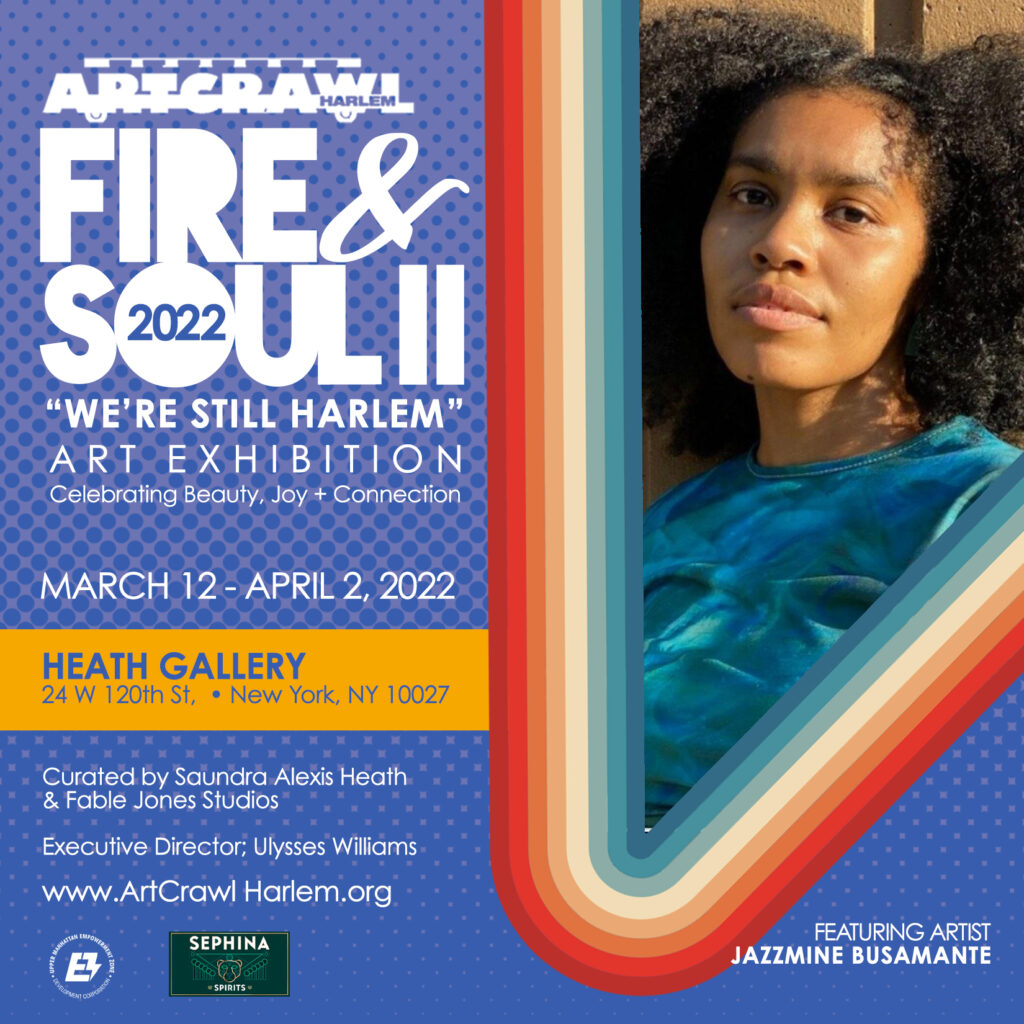 Jazzmine Bustamante is a digital artist, fibre artist, and illustration who offers visual meditations on the intersection between cultural identity as a Black woman and faith practice as a Christian. Her work mirrors her personal journey of growth, redemption, and salvation as a Black Christian woman owning her Story in the United States. Her work has been shown across the U.S. with exhibitions in New York City, Dallas, Austin, and Philadelphia. She currently lives and works in Brooklyn, NY.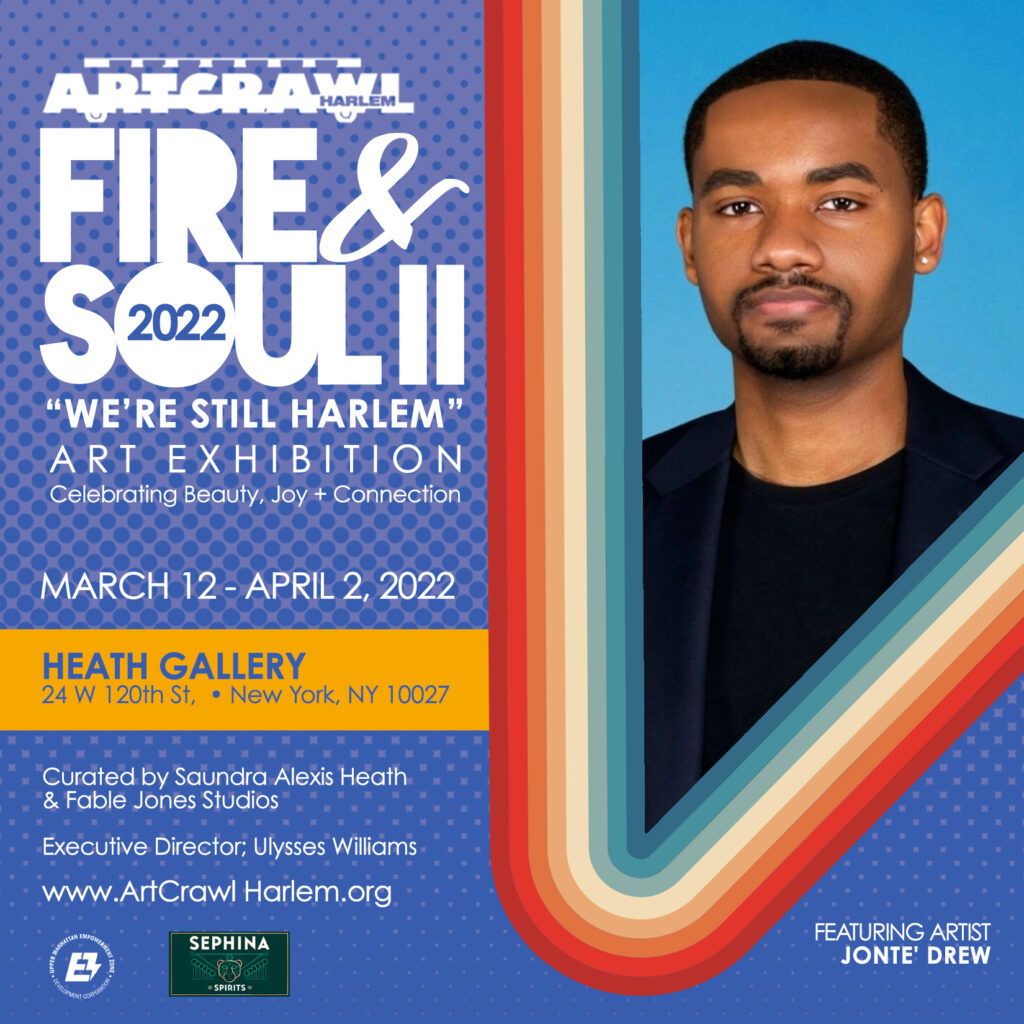 Jonte' Drew is a visual artist from Paterson, New Jersey. He attended William Paterson University, where he received both a Bachelor of Fine Arts in 2018 and a Master of Fine Arts in 2021.
Jonte's style is one that utilizes humor to investigate the shared experiences of African Americans in America, the commodification of urban culture and the conversations surrounding mental health. His paintings and drawings often feature himself and other Black individuals in the midst ofcolorful and idealized environments. In addition, he emphasizes the humanity of his subjects by placing them in various scenes of leisure and domesticity in their plight of finding serenity and joy, while challenging the critical portrayal of masculinity and physicality as it relates to the perception of Black men.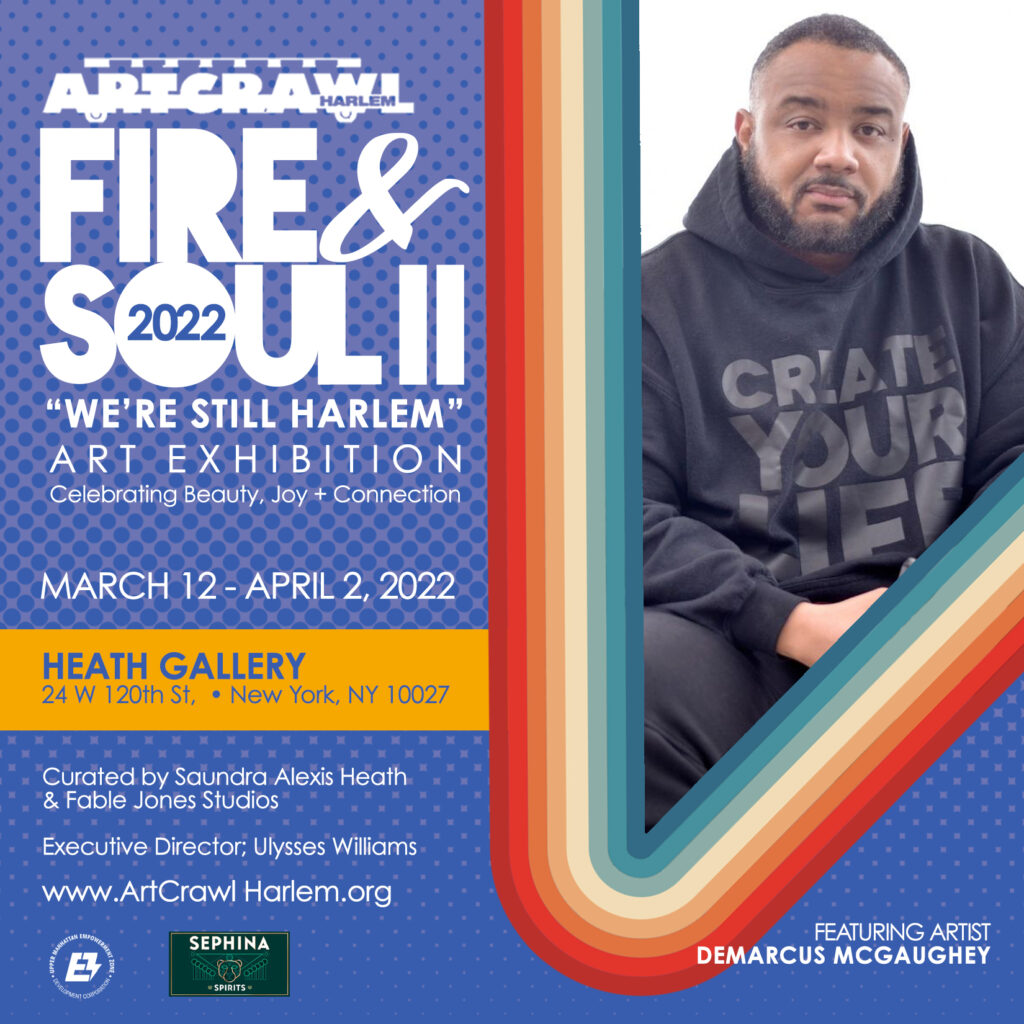 Born in Dallas, Texas Demarcus McGaughey is now living and creating in New York. He self describes as a graphic designer, fine artist, public speaker and world traveler. 
Demarcus exudes an undeniable flow and taps into his personal storehouse of magic. His soulful demeanor radiates lightning on canvas conveying an innate ability to hang with todays generation of pop artists. Vibrantly, he takes portraiture work to regal superhero status. His work is texturally imaginative, raw and playful offering his audience a refreshing perspective.
With more than 20 years of experience, Demarcus has worked with such organizations and brands as Beyoncé Knowles and beverage giant Dr Pepper, Mr. McGaughey has been spotlighted in various magazines and seen his artwork featured in several New York galleries, Texas galleries  as well as Barcelona, Spain. He completed an Artist Residences with Mas el sigols (Barcelona, Spain), Nfinit Foundation Arts Residency (Brooklyn, NY), Art Crawl Harlem ( Governors Island, NY) and selected as a 2021 Artist-in-Residence at Chateau Orquevaux located in Orquevaux, France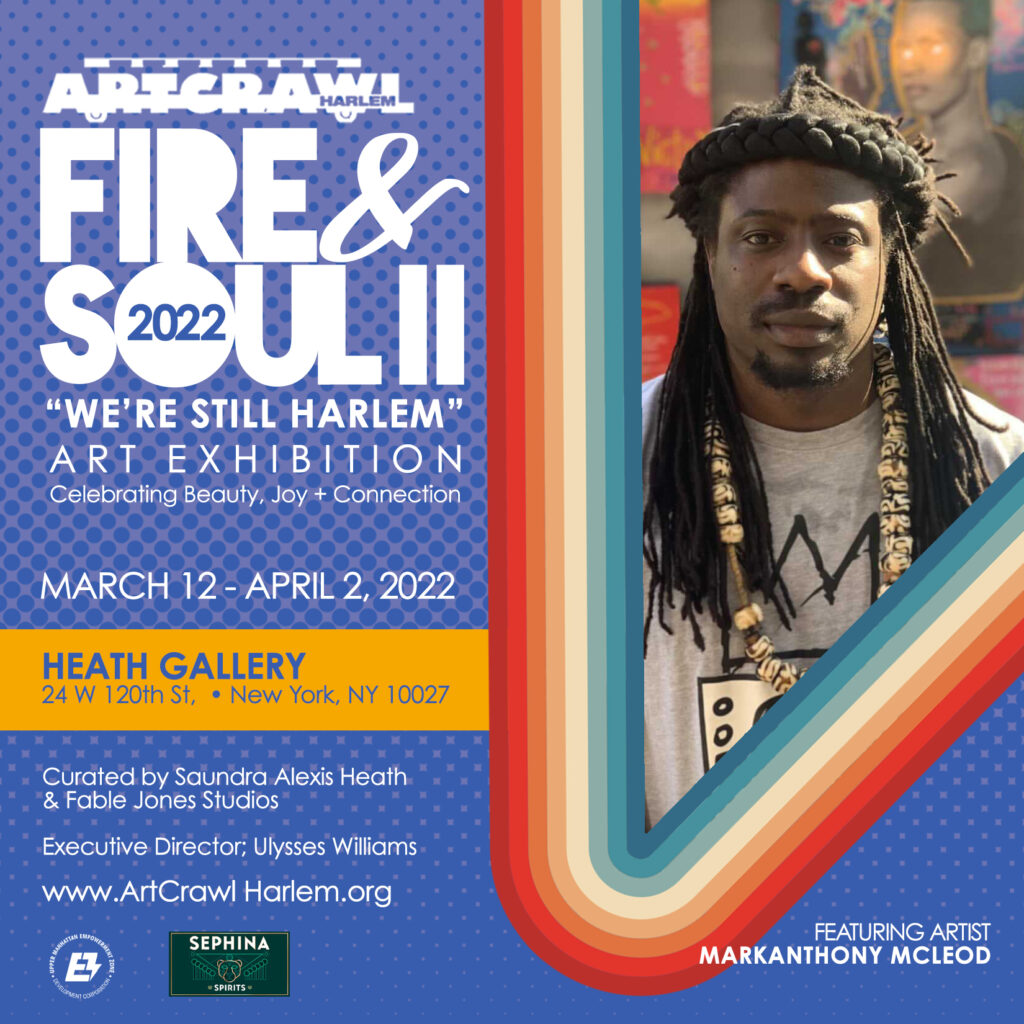 Originally from Brooklyn NY, International Mixed Media Artist, Mark Anthony, has created his own lane of Interactive Art. He has repurposed everyday artifacts and household appliances such as doors, books, telephones, and intricate lamps into remarkable timeless pieces. His works of art are filled with words of affirmation, relatable self-images, vibrant colors, and symbols of love. Each piece is completely unique, and custom made. His art shows the balance of knowledge of self, happiness, and self-love. At an early age Mark enjoyed photography and found beauty in discarded objects that most considered junk. He then began taking snapshots, painting, and assembling pieces together allowing him an early start at what will be a rewarding career.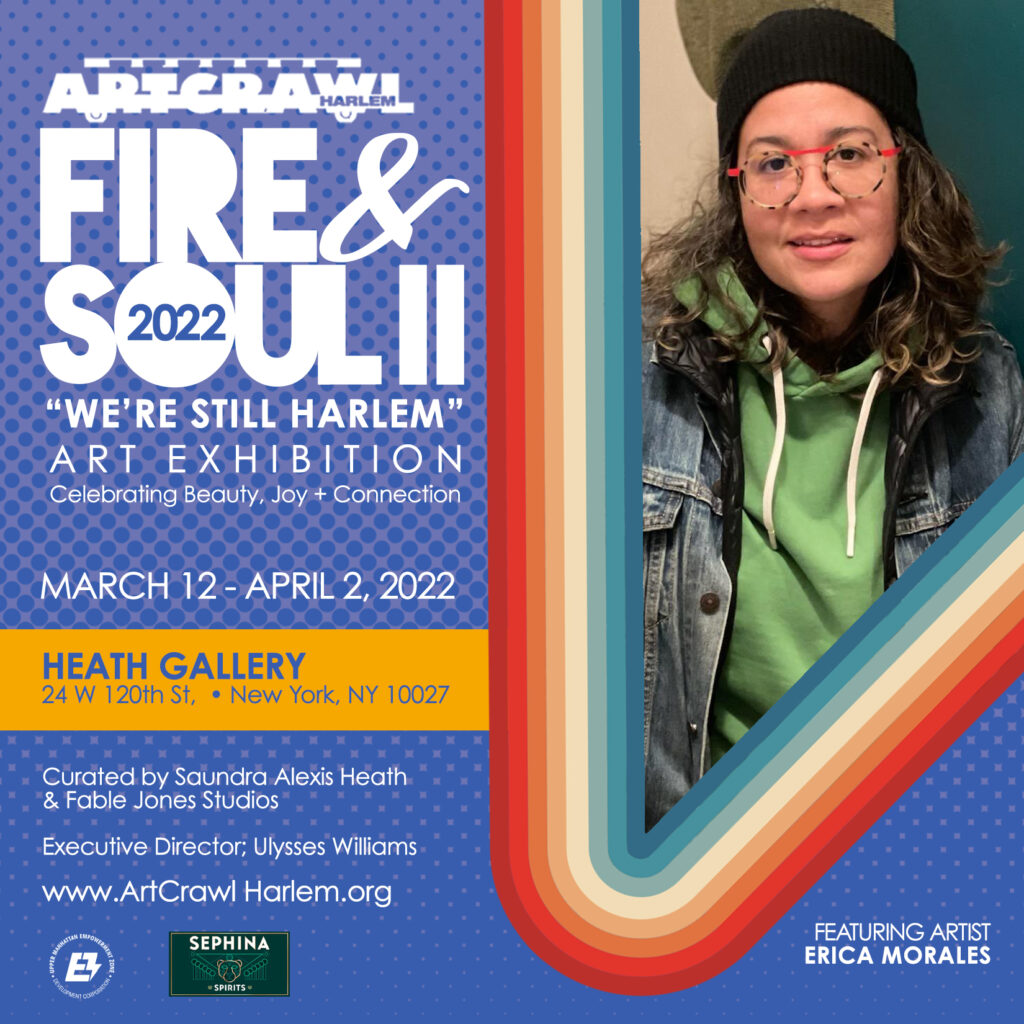 Erica Morales is a Nuyorican Bronx native who currently lives in Brooklyn.Erica Morales earned a BFA in 2003 from the School of Visual Arts with an emphasis in drawing and a MA in 2010 from New York University in higher education administration.She has worked in higher education for over fifteen years advocating for traditionally untapped populations.
In the 1980's, Morales witnessed the devastation of the Bronx fires and the crack cocaine epidemic which displaced many Latinx and African American families including her own. Both of her parents were incarcerated at different times in her life.
As a child, art became a way to leave her surroundings. She referred to comic books and graffiti art in her early drawings. During her early teens, Morales started to document her abuela. Her abuela became her muse posing in her home batas.
Morales's work is autobiographical and inspired by the perseverance of spirit individually shared by Latinx stories and people of color in her community. Her work is centered on family.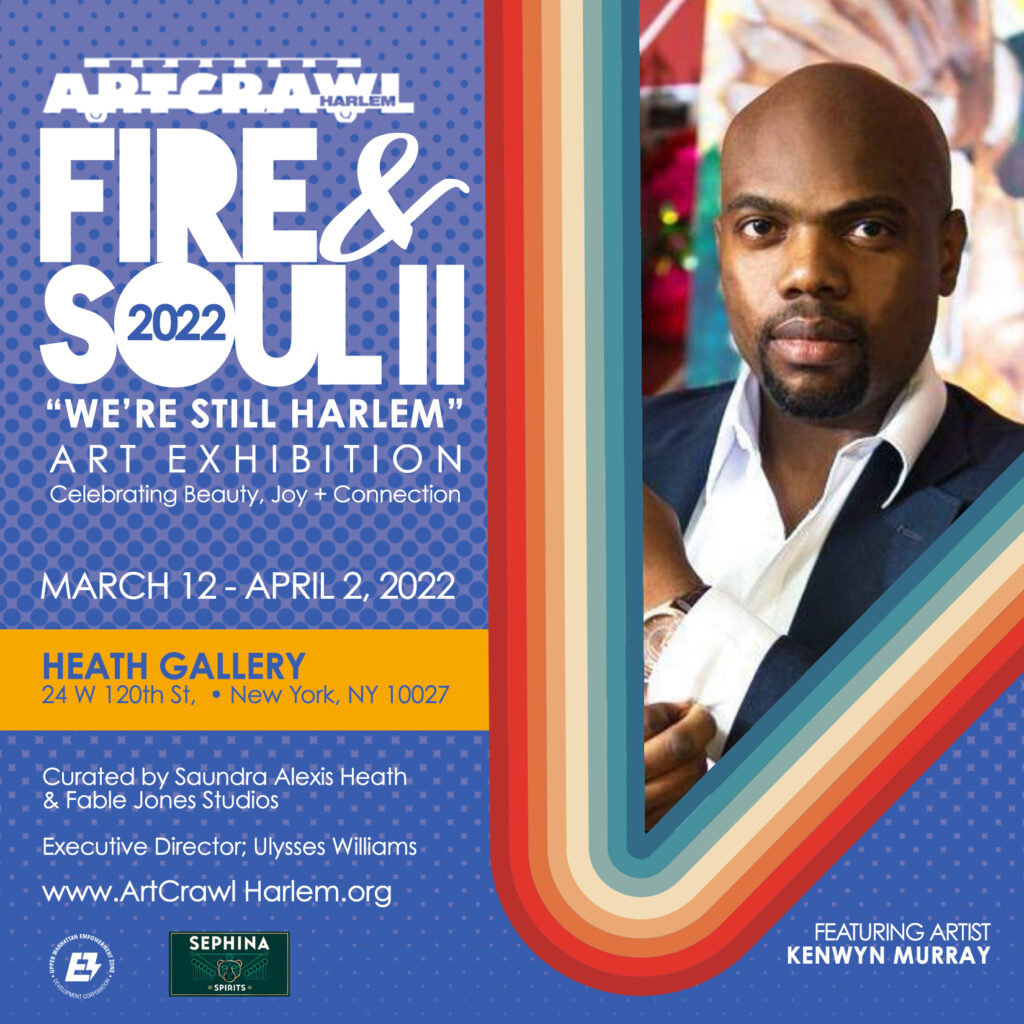 The predominant tropes within Kenwyn's practice are largely informed by the convergence of the distinct, identities of being an artist and an art educator. Born in Trinidad, in 1979, his emersion in the activity of making art has enjoyed the peculiar distinction of his being an adjunct lecturer at the Department of Creative and Festival Arts, Uwi for 12 years. There he was a core facilitator within the Carnival Studies Degree program and lectured in the courses "Critical Readings in Caribbean arts and culture", "Introduction to Cultural Research Methods", "Carnival and Society" and "Mas: History Meaning and Development". This experience shaped his enquiry into communicable iconography which openly celebrates the historical narratives of courage that encompass Caribbean heritage. The last five years have been his exploration of what he called a "Caribbean Majestic". And the production of work that evokes ideas surrounding the Caribbean's Landscape 'affective' value.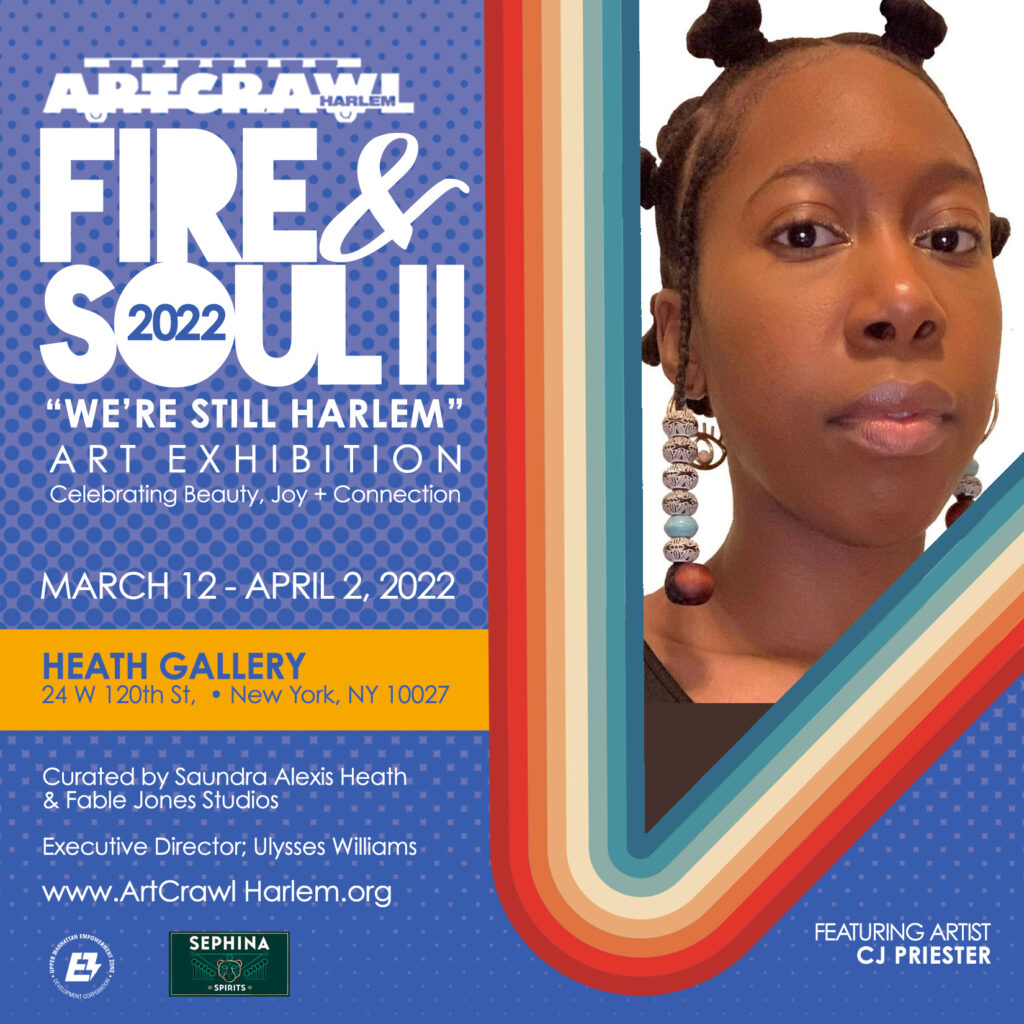 Cj Priester is an African American artist and educator born and raised in Brooklyn. She received a formal education in Fine Art and Art History from the Fashion Institute of Technology. After earning her BA, she went on to get her MA in Special Education from Long Island University-Brooklyn. All the while, art remained at the forefront of her life. Her eccentric work blends aspects of abstraction and collage with Afrocentric realism. Her art speaks on themes of self-exploration, self-love, identity, and what it means to be a Black woman in America.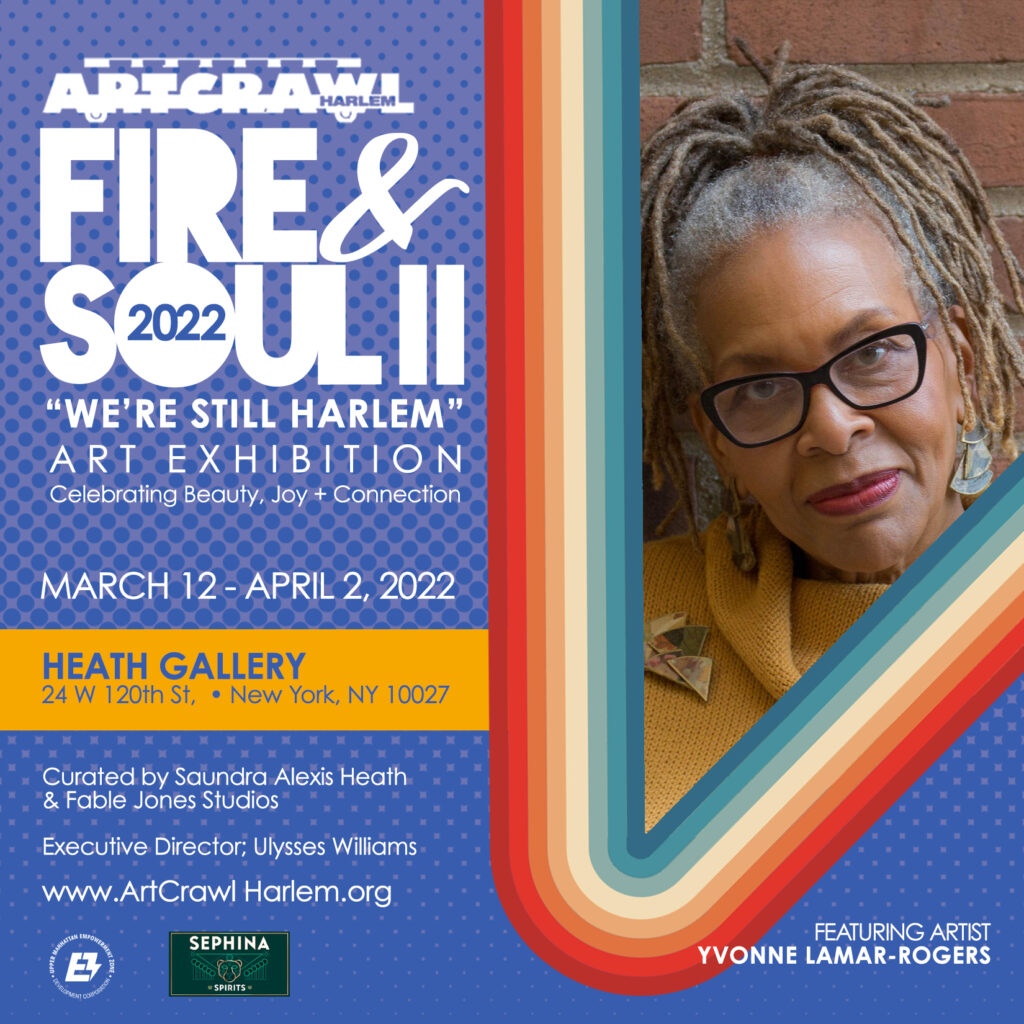 New York based mixed media artist / jewelry designer/ teaching artist, Yvonne Lamar-Rogers main focus for many years, has been sharing her gift of creativity as a teaching artist. At this time her life, her passion for creating her own art has been renewed. Yvonne is best known for creating mixed media art that tells, vivid, textural stories that were mostly inspired by her experiences and memories of growing up in culturally rich Detroit, MI during the 50s & 60s. Now, living in New York City for 20 years, she has new experiences and memories as additional inspiration for her art making.
Mixed media has been the ideal vehicle for Yvonne's expression of the many stories she shares with her art.Yvonne may use wet and or dry media along with torn pieces of paper, scraps of fabric, photography and printmaking as well as clay. There is absolutely no limit to the materials or techniques she will experiment with. Her visual stories may be in the form of mixed media collage and assemblage, sculptural artists books, sculpture, decorative boxes, painted furniture or weavings. Yvonne finds mixed media to be exciting, challenging and always new, it's even incorporated in her jewelry designs.
In 2020, Yvonne had a vision for an exhibition that would feature female artists of all visual disciplines, exhibiting art that celebrated women. She accepted the challenge of co-curating the exhibition titled "Women Celebrate Women." That year, in spite of the Pandemic, the exhibition featured over 30 talented female artists. in 2021, the second "Women Celebrate Women" exhibition, featured over 70 incredible New York female artists that truly represented all of New York.
The greatest concentration of Yvonne's formal art education was at the College for Creative Studies and Design in Detroit, MI. She received her BFA in Studio Art with emphasis in Art Education from Marymount Manhattan College in New York City.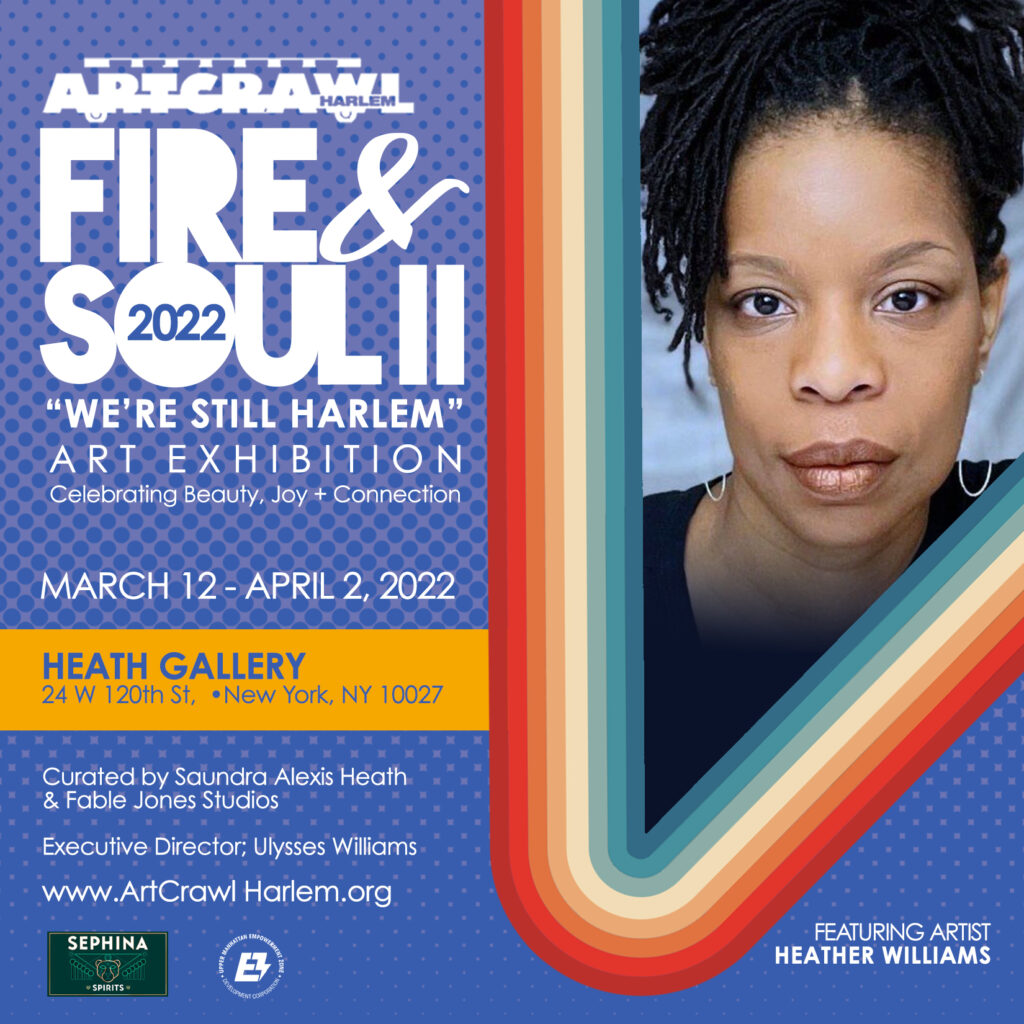 Heather Williams is an artist and an educator. She was born in St. Croix, raised in Brooklyn, NY and currently resides in Jersey City, NJ. She recently completed her master's in fine arts at The School of Visual Arts in New York and is a recipient of the Paula Rhodes memorial award for exceptional achievement in MFA Art Practice. Her short film, Safe Passage was sponsored by Art Crawl Harlem and screened on Governors Island in July 2021. With a background in Art Therapy and a Montessori Primary certification she has been teaching art and running workshops for a wide range of students and participants over the past ten years. Her work has been in many exhibitions and is in several private collections.
THE ARTWORK
Represented By
Heath Gallery
20 West 120th Street
New York, NY 10027
646-801-3172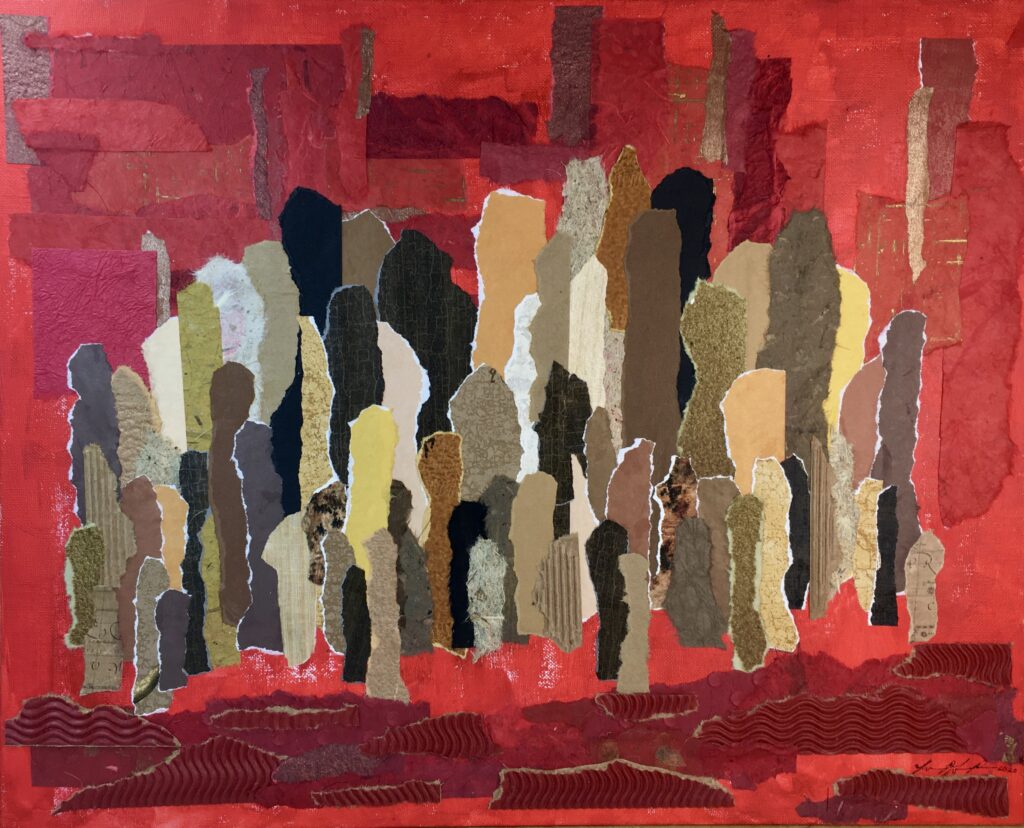 Yvonne Lamar-Rogers
"We Matter" 
Mixed Media Collage 
19" x 25"
Erica Gemenese Morales
"Miami Vice"
Mixed media on Arches Paper
38" x 50"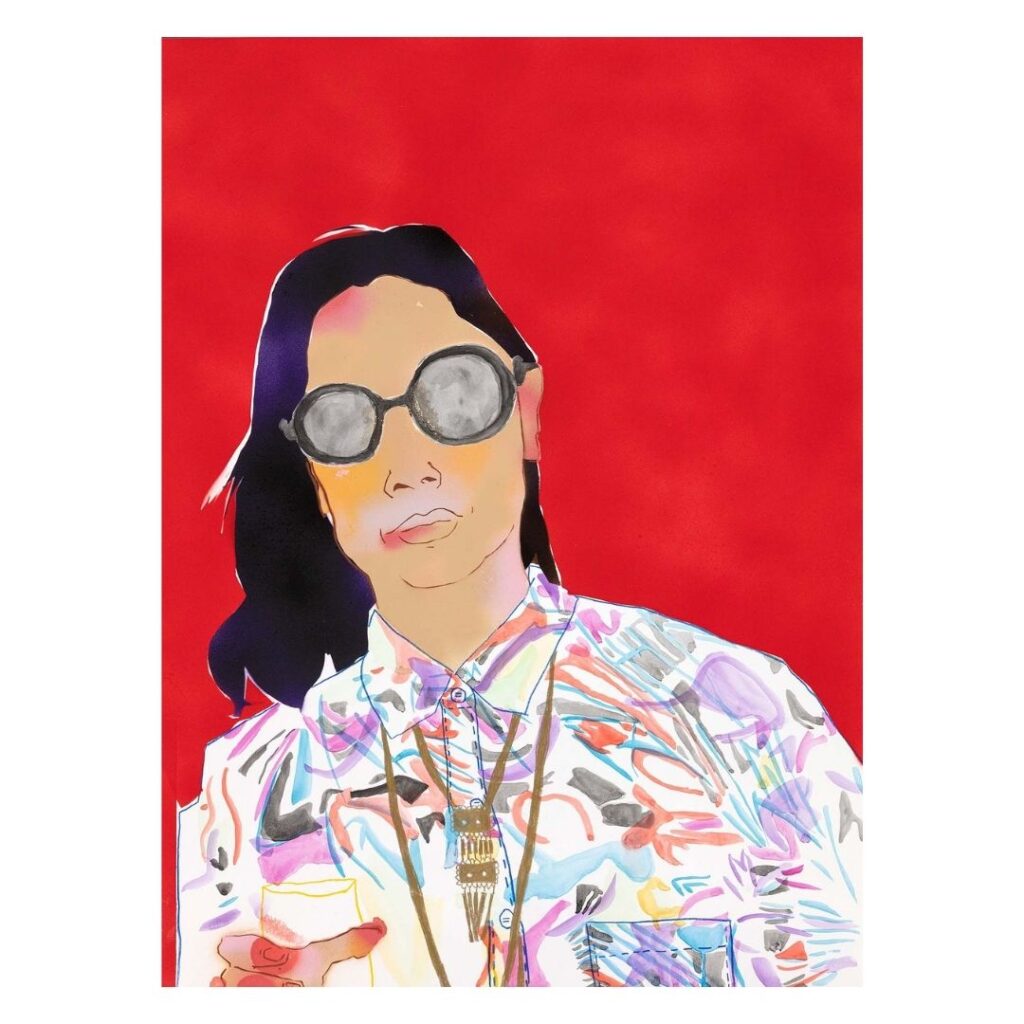 Erica Gemenese Morales
"The Vineyard"
Mixed media on Arches Paper
18" x 24"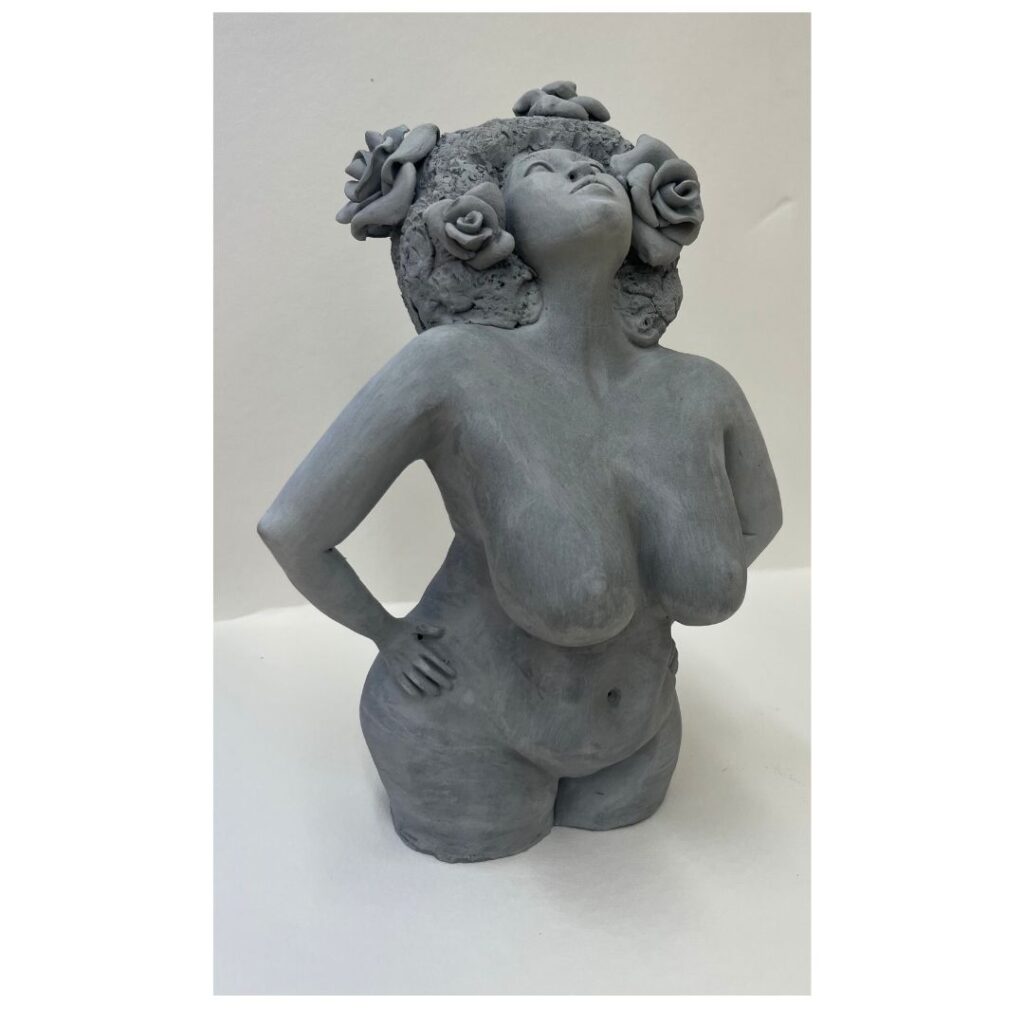 Bianca Allen 
"Rose" 
Sculpture
10.5" H x 8" W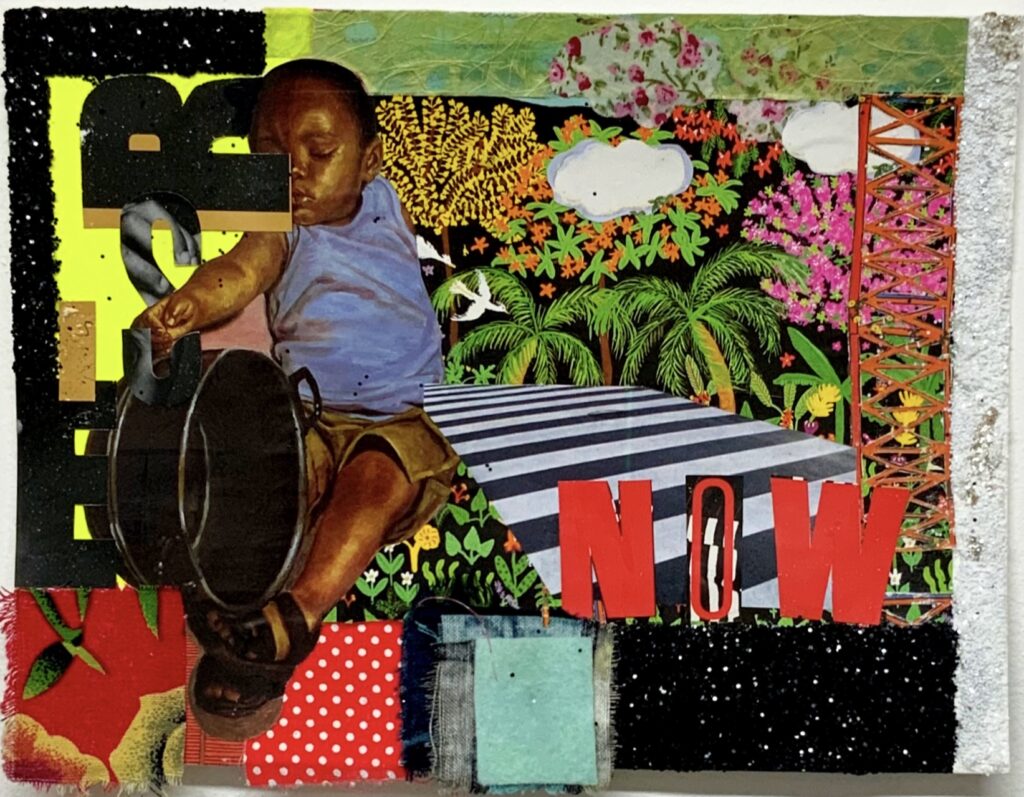 Cj Priester
"Rise Up"
Collage on Paper
9" x 12"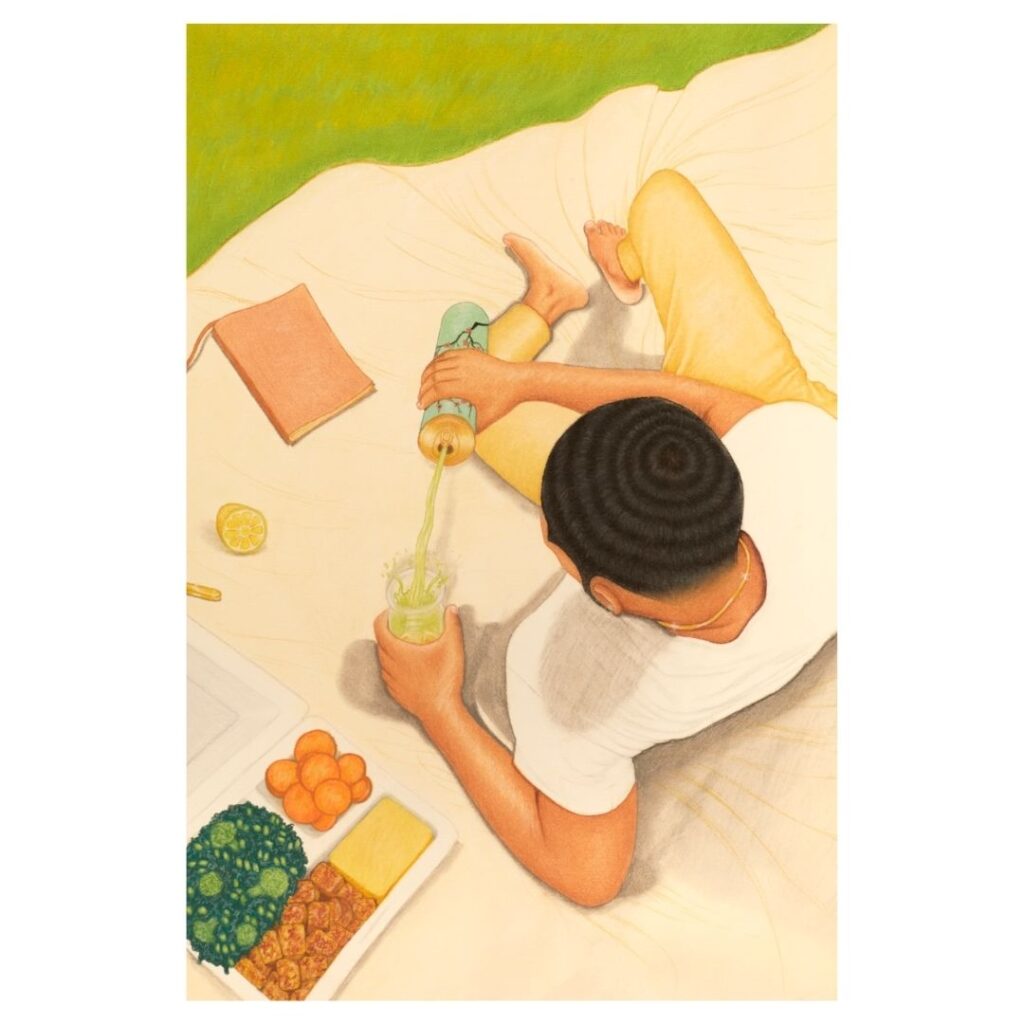 Jonte' Drew
"Bon Appetit" 
Pastel on Watercolor Paper 
24" x 36"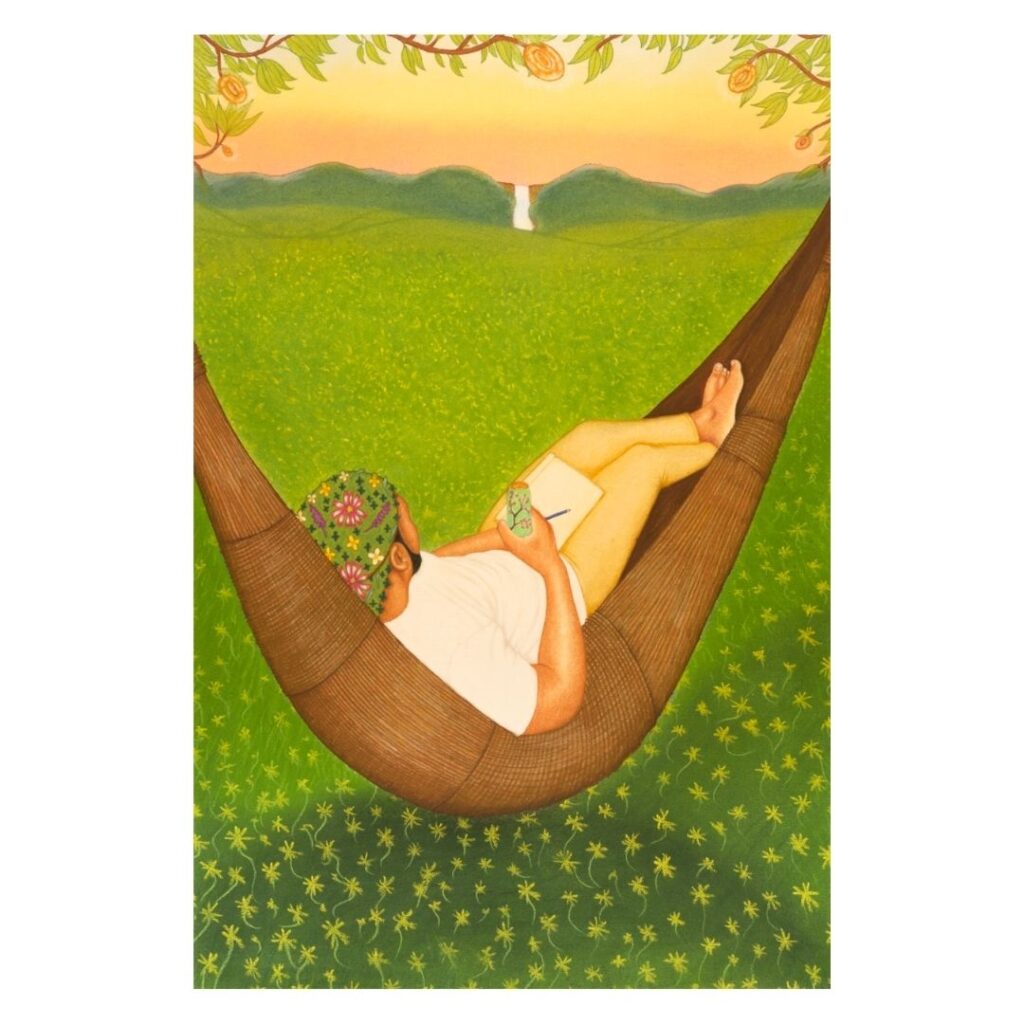 Jonte' Drew
"Day Dreaming"  
Chalk Pastel on Watercolor Paper 
24" x 36"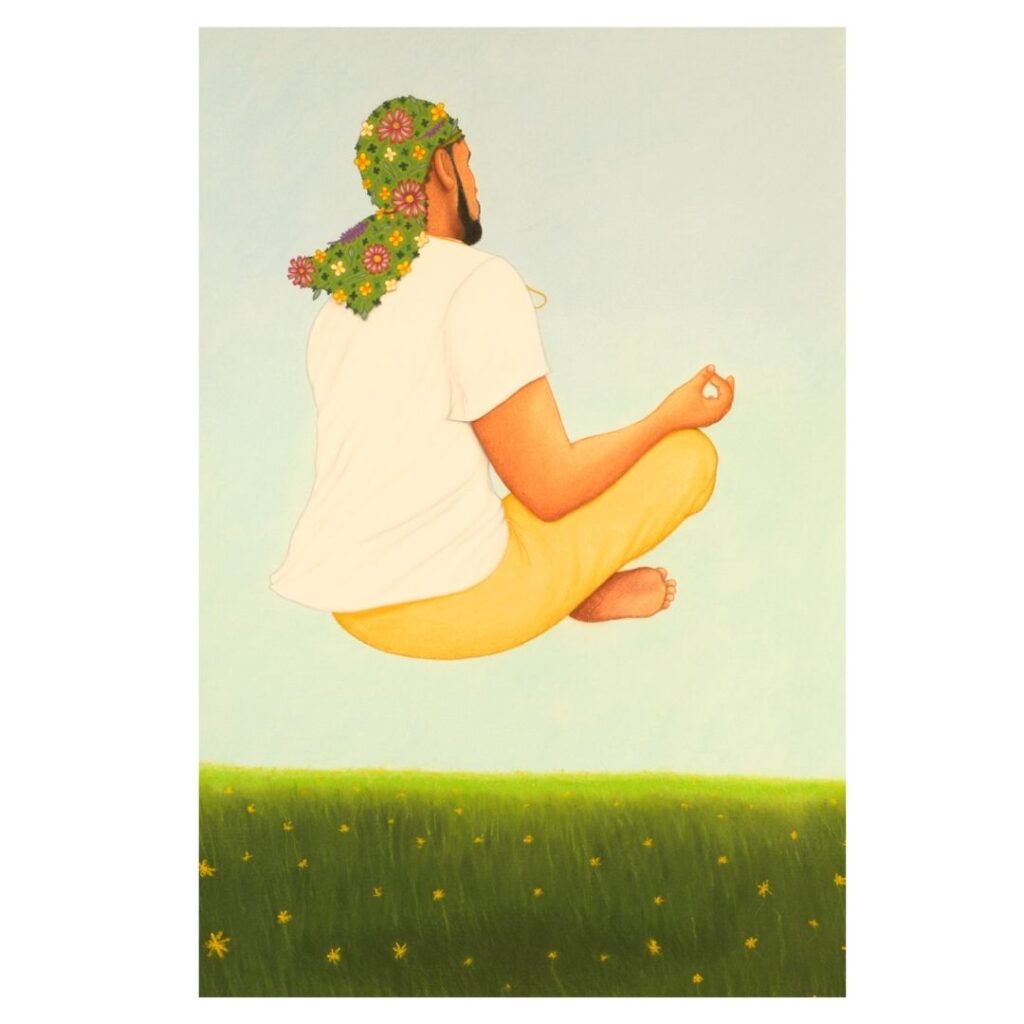 Jonte' Drew
"Steadfast"  
Pastel on Watercolor Paper
24" x 36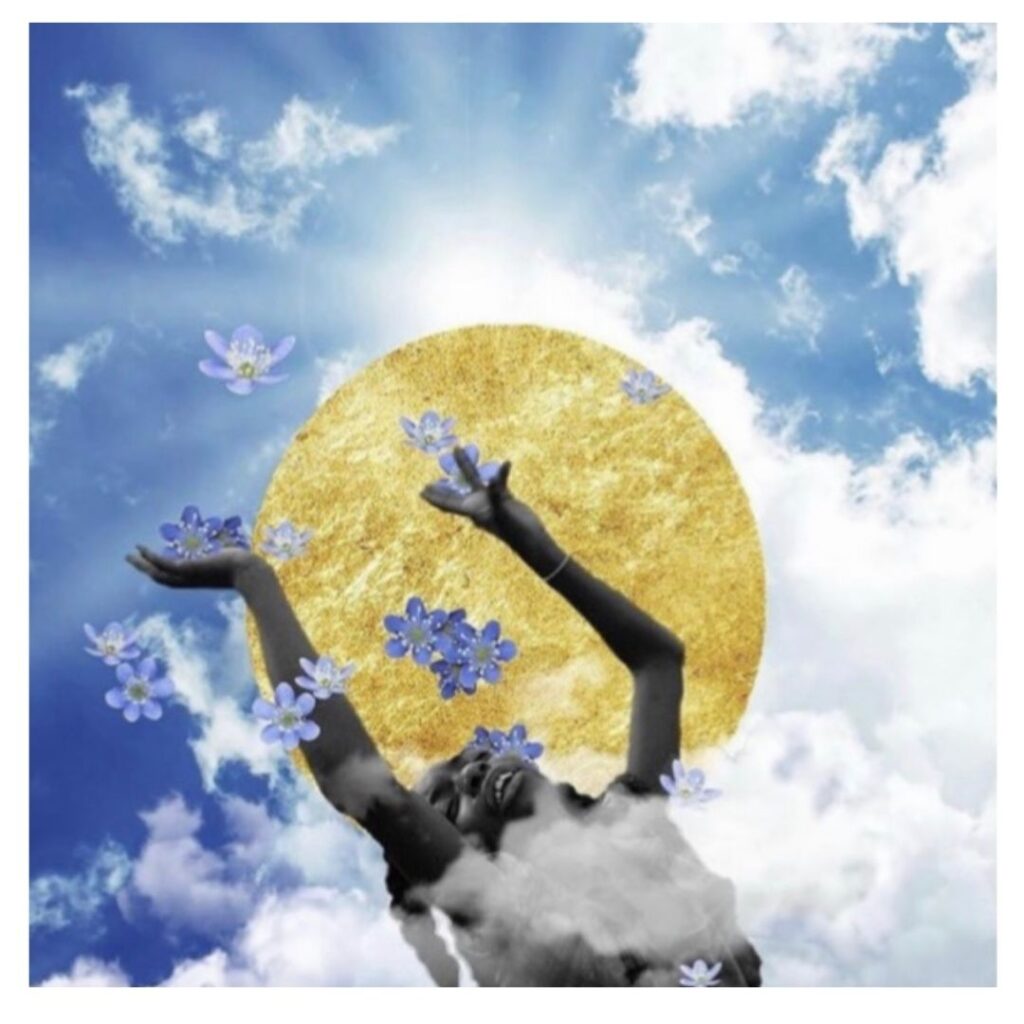 Kenwyn Murray
"No Love Dying"
Acrylic on Canvas
36" x 48"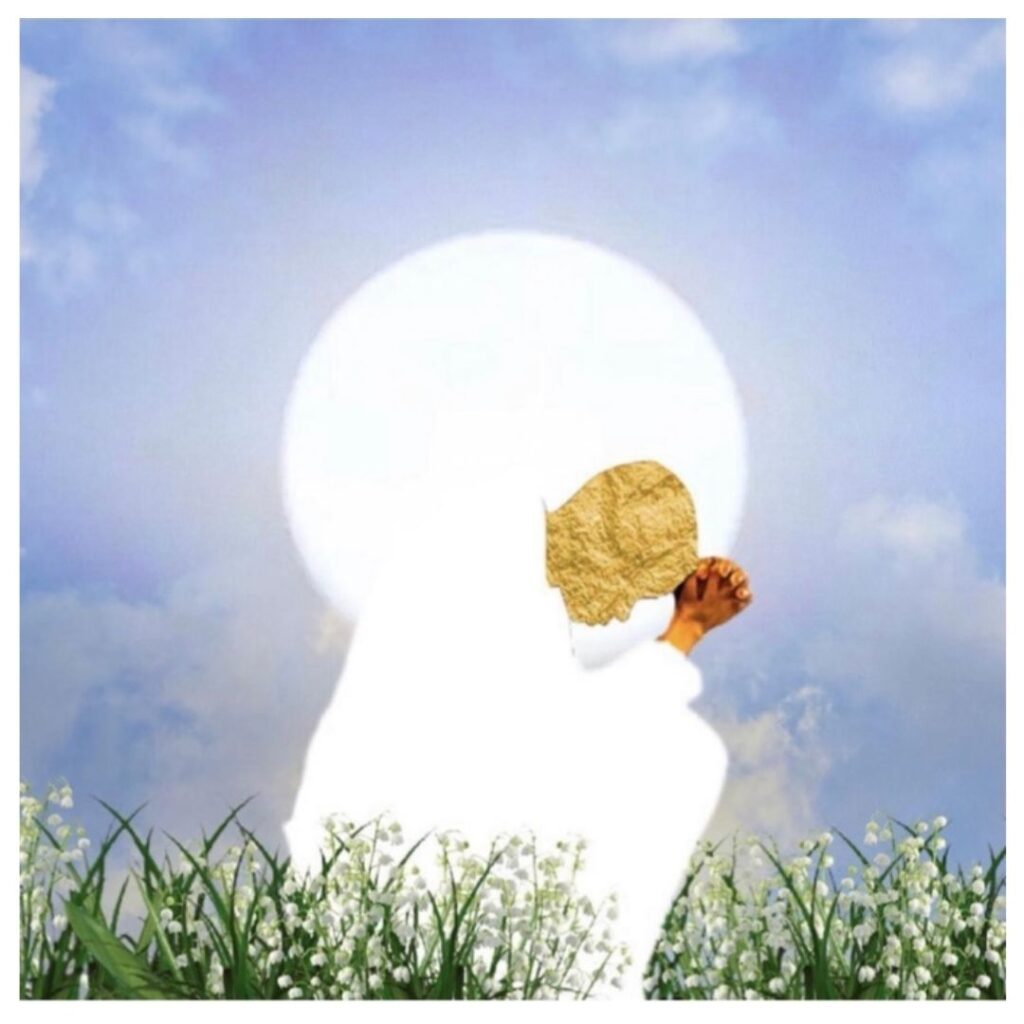 Jazzmine Bustamante 
How's Your Prayer Life? 
(Visions of Promise[d] Land) series
Digital Collage
11" x 14"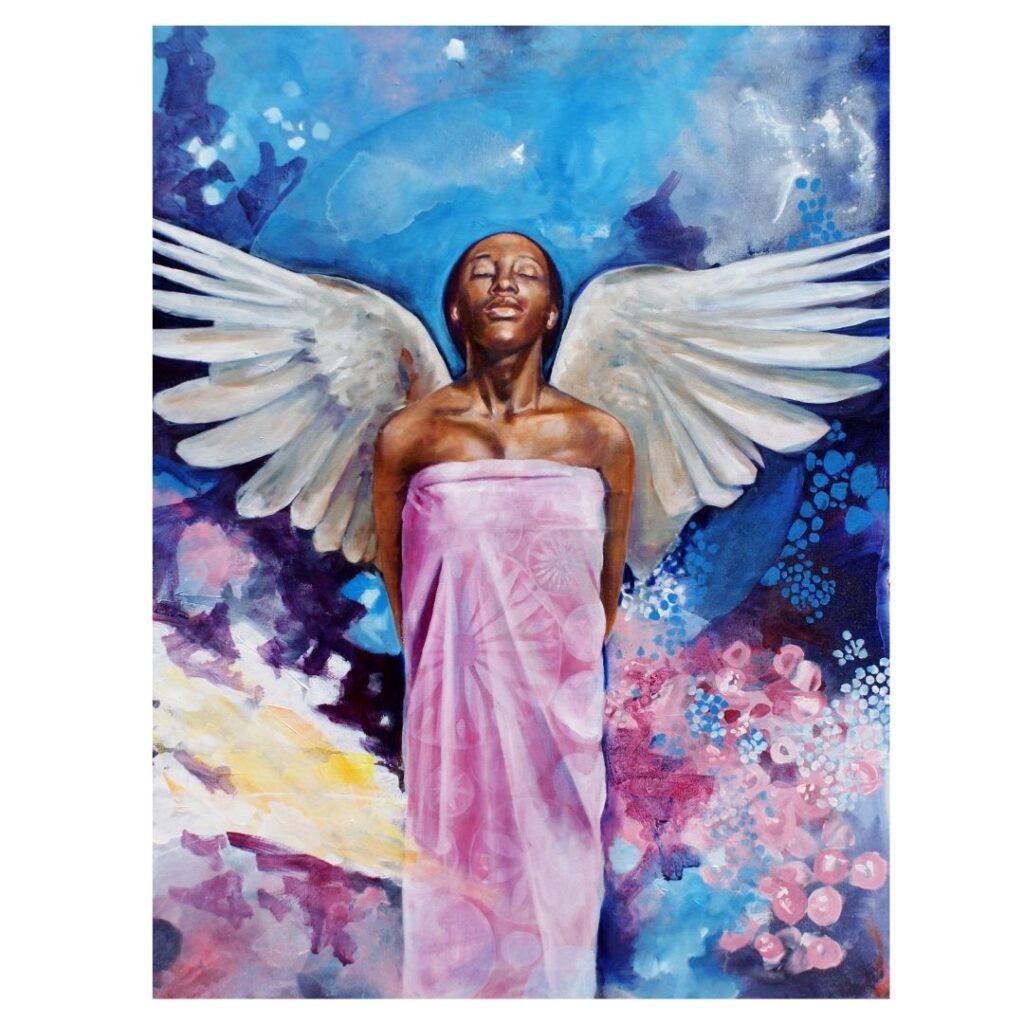 Kenwyn Murray
"No Love Dying"
Acrylic on Canvas
36" x 48"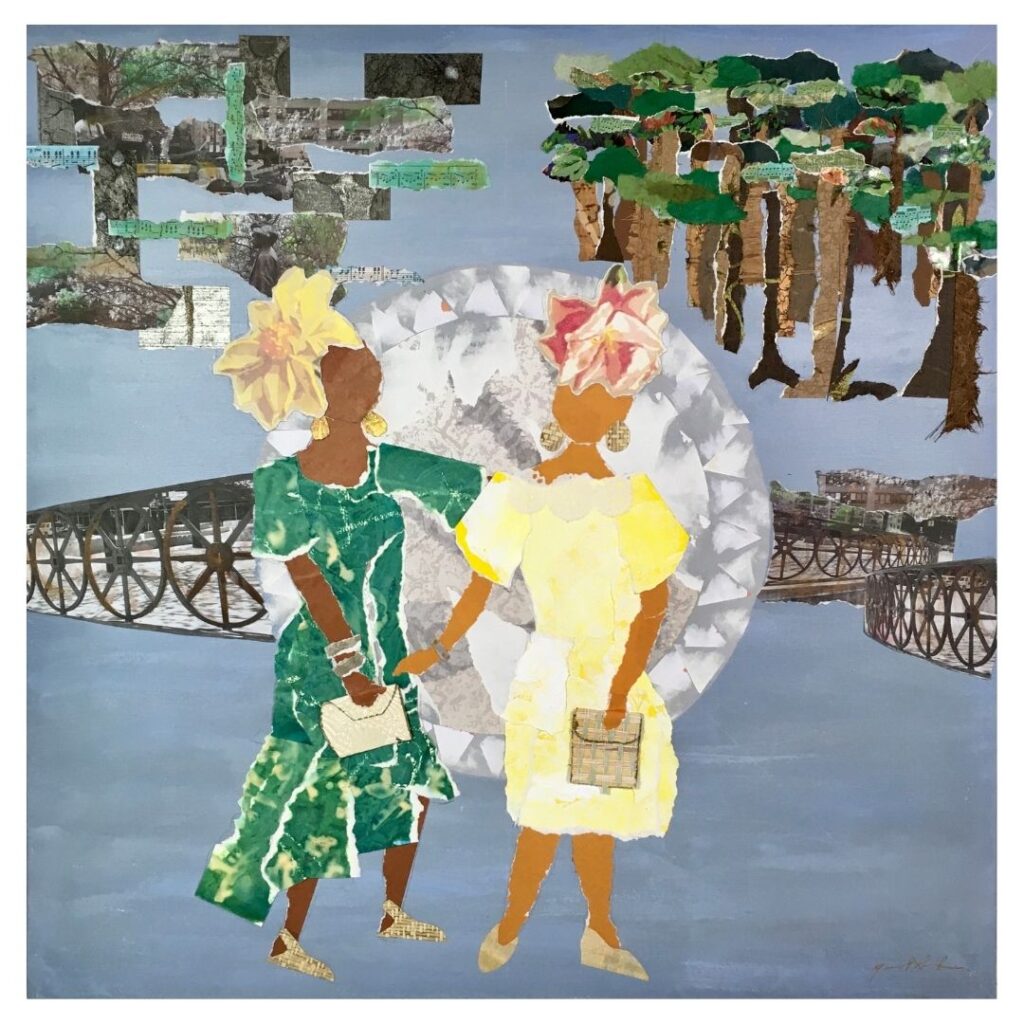 Yvonne Lamar-Rogers
"When Mom Came to Visit" 
Mixed Media Collage on Canvas
20" x 20" 
MarkAnthony McLeod
"Stay Royal" Door (A Love Message Board) 
24" x 83"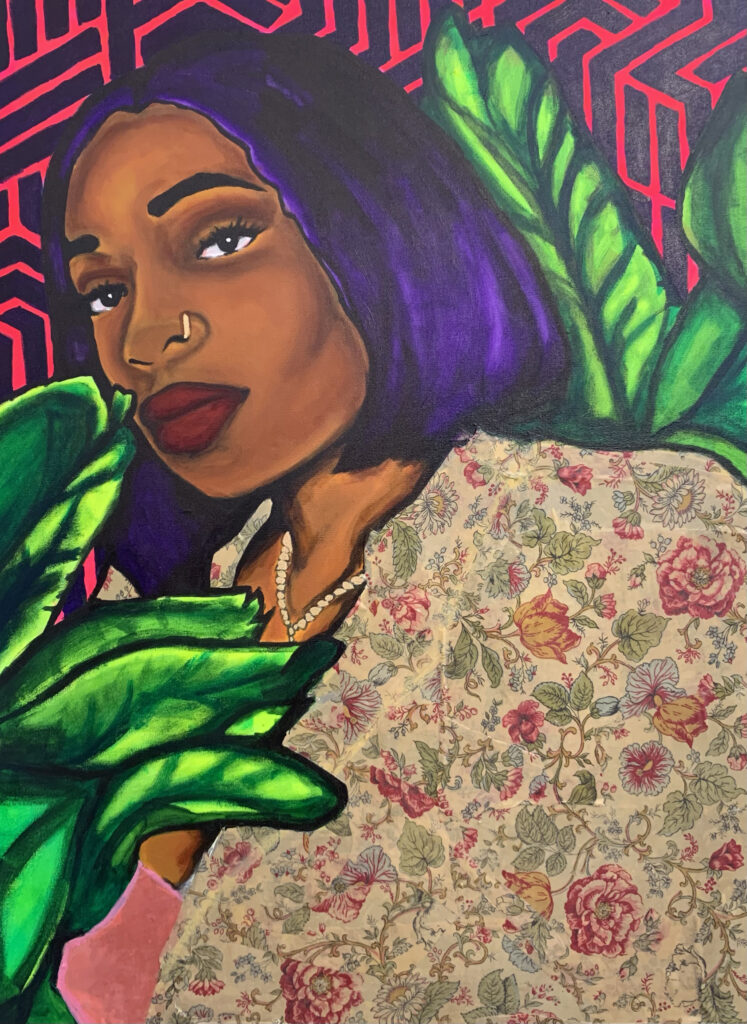 Demarcus McGaughey
"This Woman's Work" 
Mixed Media on Canvas 
30" x 40"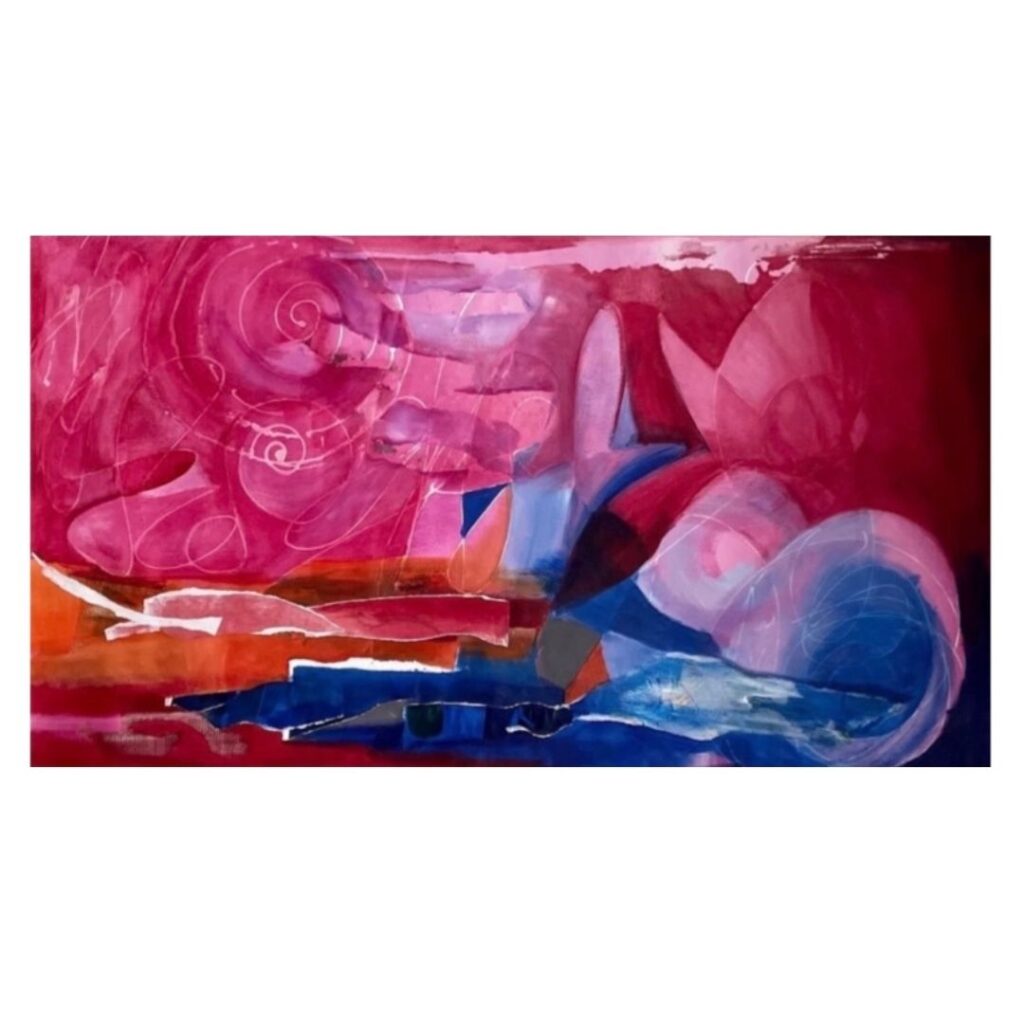 Heather Williams
"Moving About in the World"
Mixed Media on Canvas
33" X 54"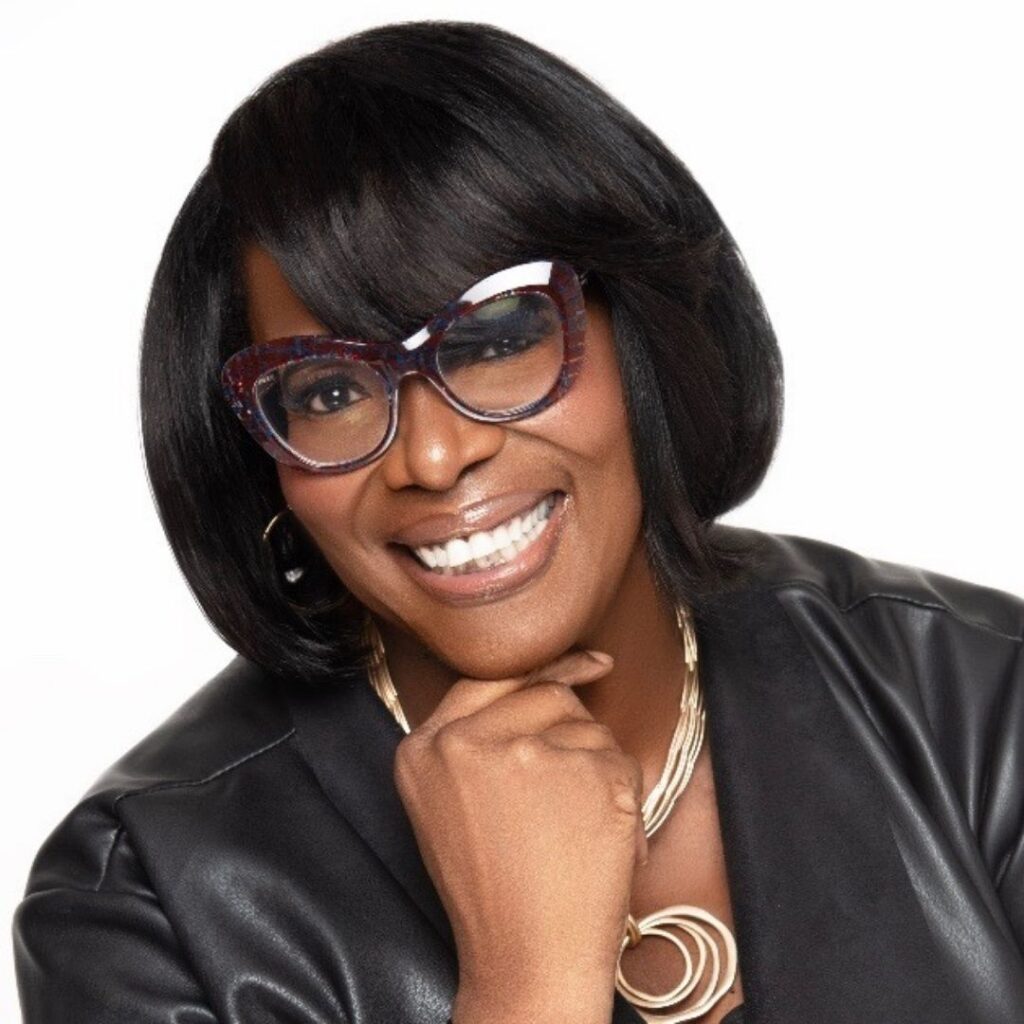 Saundra Alexis Heath, curator, is the co-founder and Director of Heath  Gallery, a contemporary art gallery located in NYC. Heath Gallery showcases the art of both emerging and established artists. Saundra is also a creativity coach; award-winning business and marketing strategist; mentor to artpreneurs and creativepreneurs and founder of  Show + Sell Your Art™️, a business incubator for creatives. She's also President of the Heath Group, a marketing consultancy for small businesses. 
Saundra offers individual coaching, online courses and free resources to help creatives thrive. She has served as an advisor to Art Crawl Harlem and provided professional development for Art Crawl Harlem residency award winners. Saundra sits on the board of MMPCIA, a local community improvement association. Saundra holds a Master of Science in Organizational Leadership and has held numerous executive marketing positions delivering award-winning results for leading brands including: P&G,  Quaker Oats, Royal Caribbean, General Motors, Amtrak, The United States Postal Service and The U.S. Army.  
Saundra has been published in Fine Arts of America; The Creativity Workbook for Coaches and Creatives: 50+ Inspiring Exercises from Creativity Coaches Worldwide and The Creativity Toolkit. Established in 2002,  Heath Gallery has exhibited over 600 artists in solo, group and pop-up exhibitions.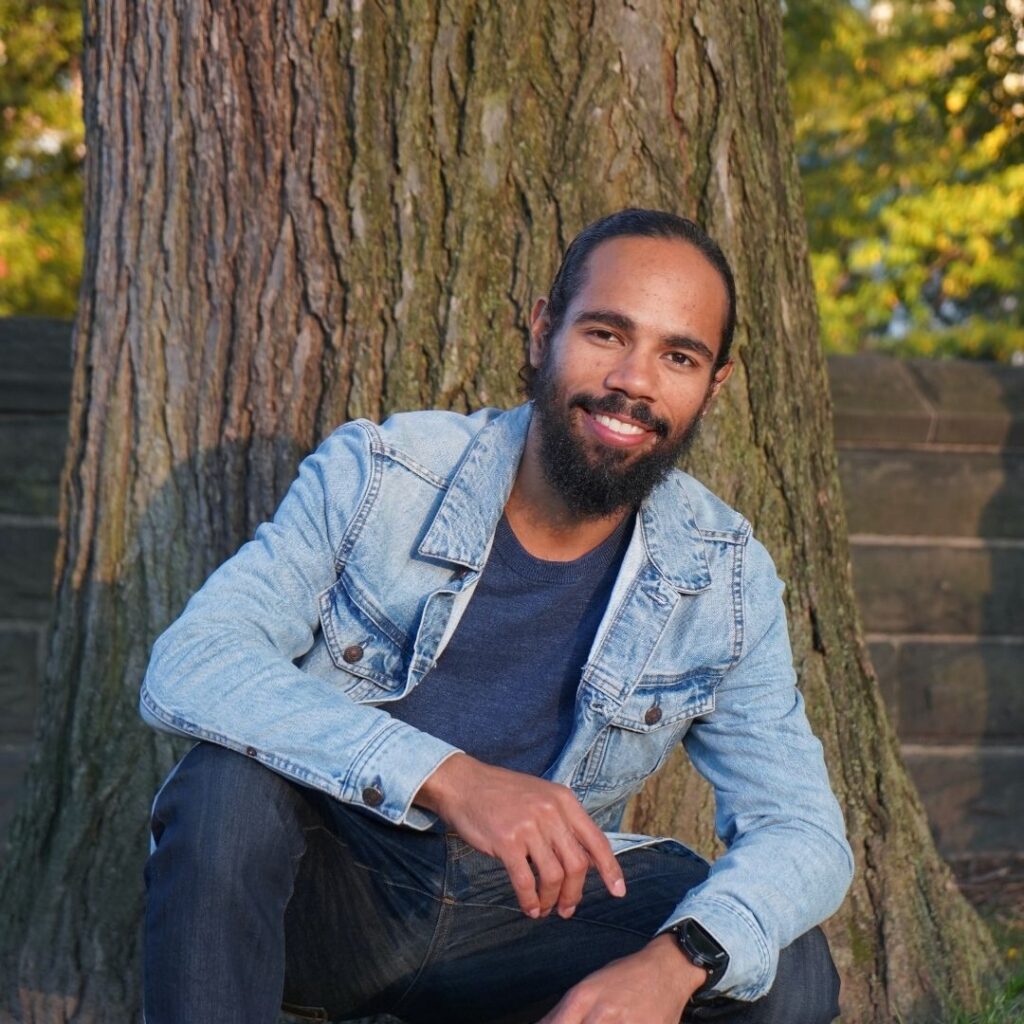 Harlem based artist and curator Michael Watson (also known as Fable Jones) graduated with a BFA in Commercial Illustration from FIT in 2013, and furthered his studies in book illustration, printmaking, graphic design and anatomical drawing at the Art Students League, SVA, and Cooper Union. In 2020, Fable and his brother Ciriaco opened Fable Jones Studios to provide a 
platform, creative safe-heaven and community for local NYC visual artists and performers. Fable loves to create watercolor paintings depicting people of color from around the world. Fable continues to expand his skill set through his unwavering interest in learning and personal growth.
ArtCrawl Harlem
"Fire & Soul: 100 Years of Harlem" Art Exhibit
Kente Royal Gallery
December 3, 2020 - January 3, 2021
Born on the heels of the influenza pandemic in 1918, the Harlem Renaissance reverberated from the blocks of Uptown, U.S.A. to the corners of the world. A movement translating the joy, pain, resilience, and brilliance of Black people. A rising up of sons, daughters, fathers, and mothers. A celebration of artistry, individuality, and community. One hundred years later, against the backdrop of our own pandemic, Art Crawl Harlem commemorates that golden age with "Fire & Soul: 100 Years of Harlem" Art Exhibition. Rendered through the lens of 18 local New York artists. Fire & Soul captures the beauty, history, and complexity of Black culture — the majesty of Black life — and dares imagine a brighter future. 
During the Harlem Renaissance as today, contemporary artists have picked up the mantle to influence the direction of arts and culture on an international landscape.  This 4 – week long exhibit explores the varying identities and impacts of Black people as it intersects America culture, from The Great Migration to; immigration, music, sexuality and gender identity, politics, religion, public health, education, the COVID-19 pandemic, and the pursuit of freedom and everyday life.
The exhibit enveloped the viewer with the hopes of awakening the senses to history and modern day hopes and dreams. ArtCrawl Harlem exhibited a diverse roster of artists across different mediums, each united by the fact that Harlem has played a significant role in their artistic practice. The works presented will reference the past, speak to the present, and boldly look to the future of the Harlem community.  Co- curators:  Nakia Hicks, Dodji Gbedemah and Ulysses Williams 
Opening Night - December 3, 2020
Watch Fire & Soul Opening Night
Watch "Fire & Soul" Virtual Program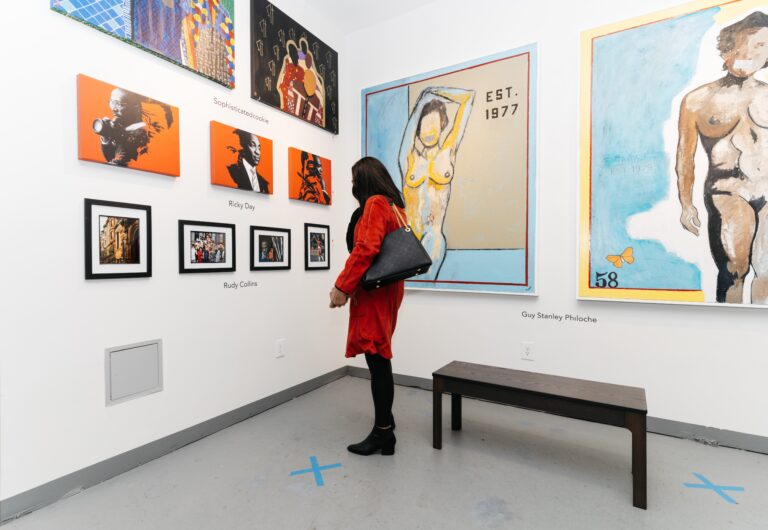 Community & Business Partners