2021 Artist Residency program
Boundaries & Connections:
Art and Activism
Boundaries & Connections 2021 Artists in Residence
Virtual Studio Tours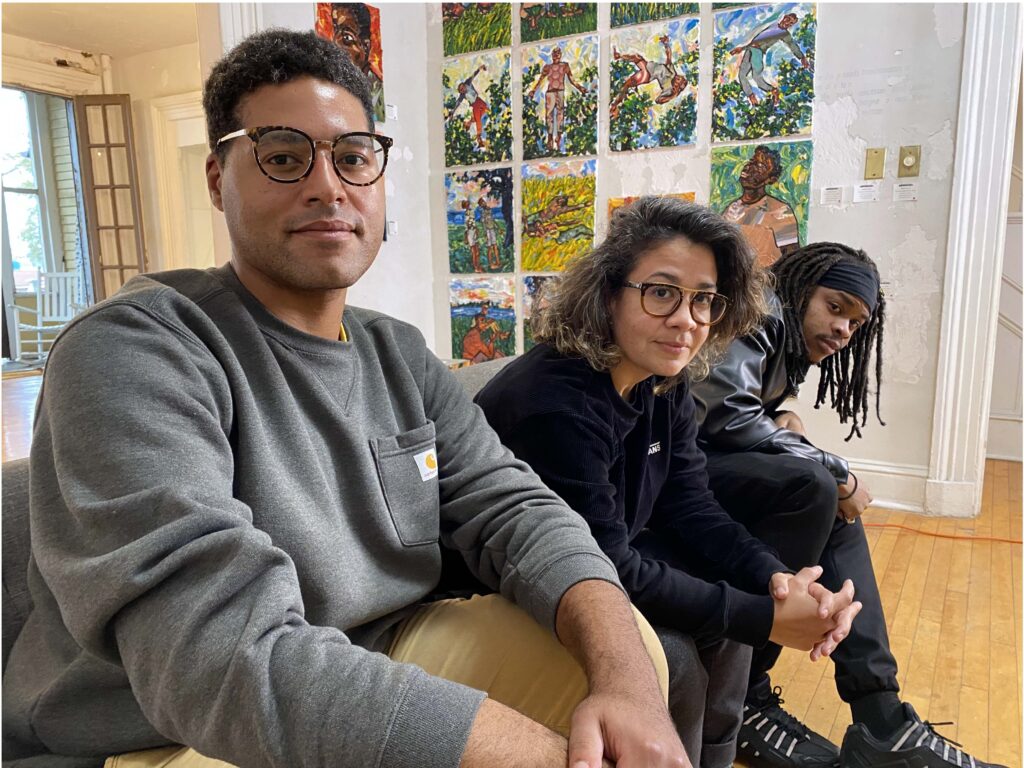 ArtCrawl Harlem 2021 Artists in Residence
Opportunity and Space to Create
The ArtCrawl Harlem Boundaries & Connections residency house is located on the scenic setting of Governors Island, NYC. The program is ideal for artist who do not have access to functional studio space in which to work, exhibit and safely engage the community. Here, artists and curators in residence meet with ArtCrawl Harlem staff, conduct research, and produce work.
The theme of the 2021 Residency Program is "Boundaries & Connections: Art & Activism. Submitting artists have been asked to ponder and consider the theme as it relates to potentially creating a series of work as a ArtCrawl Harlem Artist in Residence. It is left to the artist to interpret the theme as it related to them personally and professionally based upon your experiences, socio-political and economic issues, women's rights, beauty, race relations, gender/sexual identity, climate control, education, healthcare, poverty, immigration, etc. 
ArtCrawl Harlem welcomes artists working in various visual arts mediums to apply. ArtCrawl Harlem is interested in the work of individual artists whose work is process-based and geared towards filling gaps in historical knowledge. Three artists have been  selected by a jury of arts professionals.
Residency Program: May 1st - June 11th
Michael Obele is originally from Lagos, Nigeria he relocated to the United States and currently  resides in Bronx, NY.  He is a  multi-talented portrait artist with concentration in in charcoal and graphite pencil and a photographer.  He describes his work as hyper-realistic with meticulous attention to detail. In the past decade he has harnessed and evolved his skills as a full-time professional artist.  In addition to arts he is avidly involved in aspects entertainment as he is a proud ambassador of the Afrobeatz music genre. 
His mission is to use his art as a conduit to promote positive relationships and build bridges between black people in the United States, the motherland Africa and all over the world.
Michael Obele Open Studio Dates on
Governors Island - 4B Nolan Park
Saturdays & Sundays – May 22nd & 23rd, May 29th & 30th, June 5th & 6th       
Residency Program: July 24th - Sept. 3rd
Mario Joyce Belyusar is a self-taught African American artist living in New York City. His artistic process began early and was heavily influenced by religious and racial prejudice experienced in rural Ohio. He began using both genealogical research and paint to further understand and share the social history of discrimination. After a moving to New York City, he is furthering his studies in the African diaspora and how American History is steeped in selective storytelling that neglects to share the experiences of marginalized communities. His work is characterized by vibrant colors, strong line and heavy texture. A collage of vintage materials is typically a part of his process. Mario has exhibited his work in many group exhibitions, including most recently at ArtCrawl Harlem's Fire 7 Soul: 100 Years of Harlem at Kente Royal Gallery, at PRIZM Art Fair in Miami, Florida and will be a part of Caribbean Art Fair in Barbados in Spring 2021. His work is privately owned by many collectors throughout the U.S. "I collage vintage materials as a background for landscapes and figures in oil paint that create an open dialogue with our Ancestors." Mario is specifically interested in the African American experience and social injustice within the Black community. His work is intended to create a bridge between our ancestor's experiences and our familiar contemporary existence. He believes that without an understanding of our past, we have no real grip on the present, so his working process begins with genealogical research. One of his recent paintings "Strange Fruit" was made in response to black men dying by the hands of police and white supremacy. "It is my intention, in this piece, to take back that narrative and memorialize the countless black bodies that have risen and now navigate a higher plane".
Mario Joyce Open Studio Dates on Governor Island - 4B Nolan Park
Saturdays & Sundays – August 14th & 15th, August 21st & 22nd, August 28th & 29th , September 4th & 5th
Residency Dates: Sept. 3rd - October 17th
Working in higher education since 2002, Morales' professional background addresses critical areas in higher education such as LGBTQ services, multicultural affairs and academic affairs. The primary focus of her work has been on advocating for vulnerable populations, supporting and serving communities of color. 
In the 1980's, Morales witnessed the devastation of the Bronx fires and the crack cocaine epidemic which displaced many Latinx and African American families including her own. Both of her parents were incarcerated at different times in her life.
As a child, art became a way to leave her surroundings. She worked with a pen or pencil on notebook paper. She referred to comic books and graffiti art. She was also influenced by the hip hop rhymes and beats. During her early teens, Morales started to document her abuela through drawing. Her abuela became her muse posing in her home batas. 
Morales' work is autobiographical and inspired by the perseverance of spirit individually shared by Latinx and people of color in her community. 
Inspired by personal and cultural experiences- her work focuses on illuminating and interpreting moments of strength, love, and community. She relies on her collection of family and personal photographic portraits to focus her lack of memories. She interprets the images through drawings on paper by celebrating the energy, phenotypes, through the many hues of people of color. 
Erica Morales Open Studio Dates on Governors Island - 4B Nolan Park
Saturdays & Sundays – September 25th & 26th, October 2nd & 3rd, October 9th & 10th
ArtCrawl Harlem 2021 Boundaries & Connections Artist Residency is Dedicated to Memory of
ARTIST, TIMOTHY FOWLKES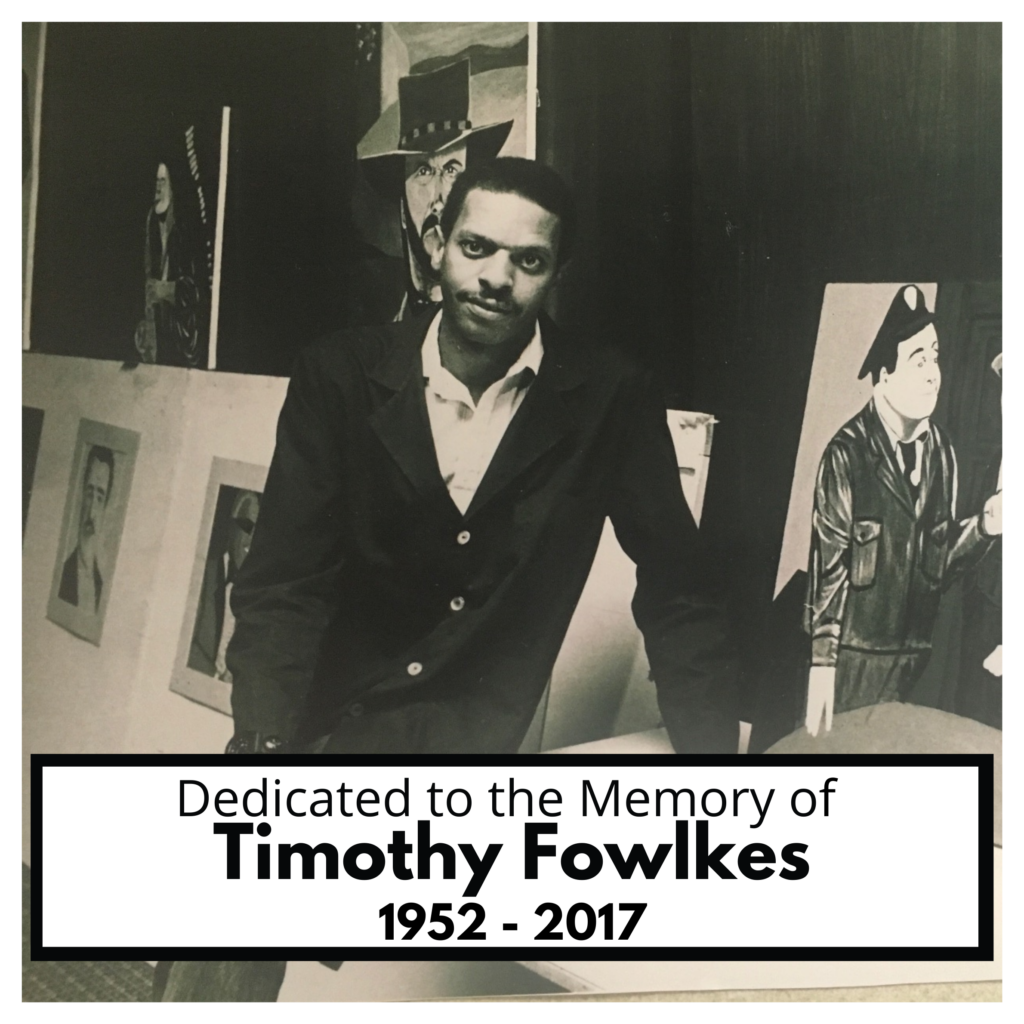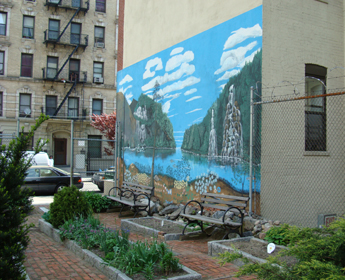 Timothy Fowlkes, a New Jersey native, grew up with both his parents and seven siblings. He was a kind, caring and giving man who developed a love for art and community activism at a young age. As a self taught artist, he honed his artistic skill in drawing and painting from a young age where he would visualize, sketch and paint as a hobby. He believed in the importance of education, cultural awareness and community activism. Timothy received his post secondary degrees and spent most of his career working with non profit community organizations. He continued to develop his artistic expression and love of art by creating portraits on canvas, murals, stage background scenery for plays and shows with his preferred medium of acrylics, chalks and oil based materials depending on the mode of expression.  Timothy had a special connection to New York City where he spent several decades as a resident . He used his artistic gifts throught-out whether it was creating the cover of a community based directory or a beautification program by painting murals Timothy was generous in the use of his artistic gift by giving of his time and talent through teaching, community activism and community beautification programs to uplift and help improve/promote communities in need. Timothy's presence is truly missed by his relatives, friends and co-workers. 
(Top Left – Photo of Timothy Fowlkes, Bottom Left Photo: Edward P. Bowman Park (Harlem) mural which was completed in 1995 by Shirley E. Johnson and Timothy Fowlkes. The image captured in the mural emphasizes the yearning of urban residents to experience a microcosm of country living, green spaces, and farming.  The waterfall, trees, lake, and fish in the mural speak to a different time and place far from the city streets – bringing Harlem residents from the concrete and asphalt of the city streets into a refuge of the natural world. 
ArtCrawl Harlem 2021 Governors Island Programming
THE (G)ENERATION PROJECT DEBUTS "WHAT'S YOUR (G) STATUS?" POP-IN CAMPAIGN At ARTCRAWL HARLEM'S "BOUNDARIES & CONNECTIONS HOUSE ON GOVERNORS ISLAND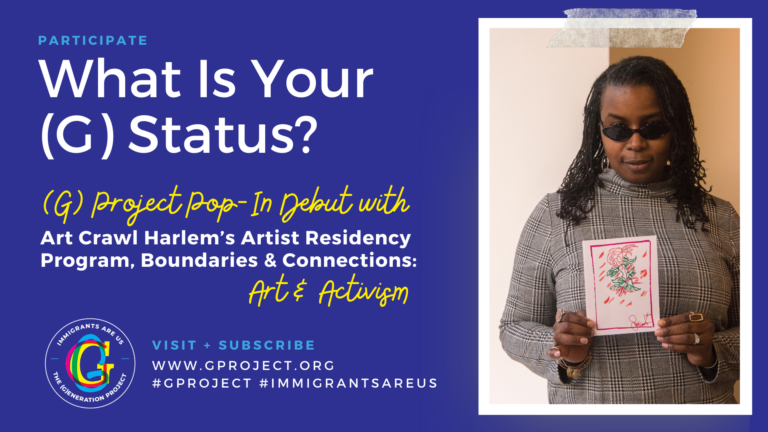 To celebrate NYC Immigrant Heritage Week, the (G)eneration Project debuts the (G) Pop-In, "What Is Your G Status?" on Governors Island with a virtual event on Saturday, April 17, 2021 from 1:00 pm – 2:00 pm EDT on the (G) Project YouTube Channel (YouTube @GProject_org).
RSVP Here: GenerationProjectIHW2021.eventbrite.com
Immigrant Heritage Week, an annual city-wide celebration that honors the experiences and contributions of immigrants in New York City, is a rich collection of free events and programs that build cross-cultural understanding between diverse New Yorkers.
At the virtual Pop-In event on April 17th the public is invited to learn how to determine your (G) Status, to hear from the (G) Project team about why the mission, initiatives and future plans are so relevant to the landscape of immigration, and to visit Governors Island and "pop-in" to discover and participate in our interactive art installation.
The collaborative residency with ArtCrawl Harlem is located on historic Colonel's Row, House #4B Nolan Park on the scenic grounds of Governors Island overlooking Ellis Island, The Statue of Liberty and the Manhattan skyline. From May through October, visitors can go in-person to the Row House to create an impromptu artwork on a (G) Project-designed card, record a video to share their stories, and pose for a portrait.
Alternatively, virtual visitors can participate directly on the (G) Project website. The (G)eneration Project is a public art campaign to celebrate
ArtCrawl Harlem Boundaries & Connections
Residency House on Governors island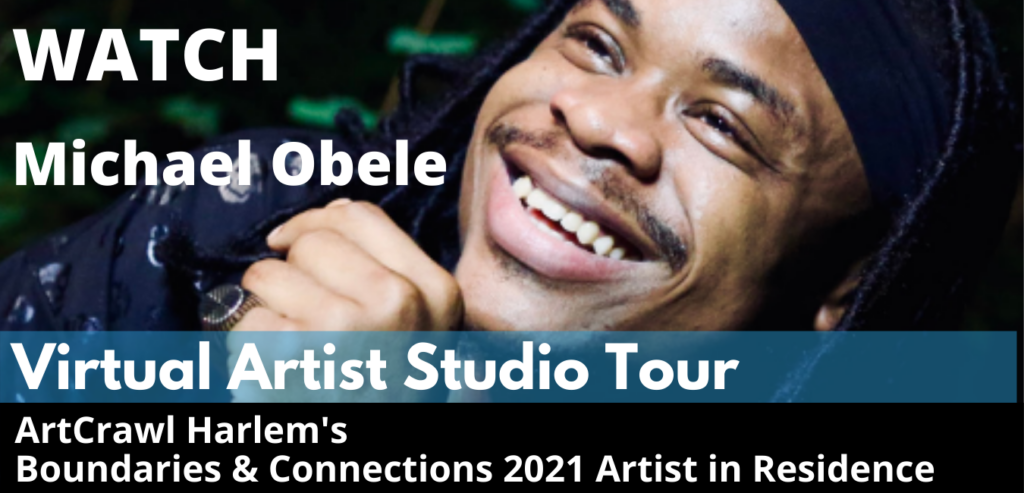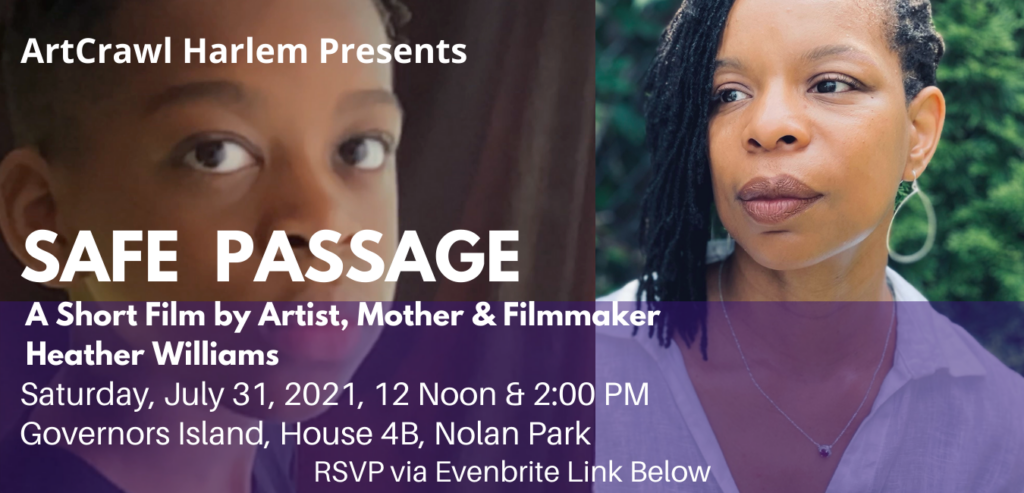 "Safe Passage is a meditation on the journey of searching for a way forward toward safety, freedom, and humanity. Paths are obscured. Ancestors cast in clay guide, bear witness, and watch over. The past haunts the present. The future remains wavering and uncertain. Artist Heather Williams asks is there a safe passage for the black body?
SAFE PASSAGE, the 2020 video by multi-platform artist Heather Williams expands 6 minutes and 36 seconds into a deeply felt mediation on a five hundred year old question. "Is there a safe passage for the black body?" While the question remains poignantly unanswered,
Williams cracks spacetime into a path both real and metaphoric. We travel through the tall grasses of New Jersey wetlands without the benefit of the long view. We enter that tiny space where fenced space meets cool breezes, as we enter the cool south source – the protective forces of ancestral vigilance. Slow, elegant and deliberate this work employs a visual clarity that joins conditions both abstract and represented. We see as the artist sees: from the life-giving green of macro vision, to the searing white light burning through tiny holes at the fabric's selvage edge. This is the mother's edge: the one that keeps all from unraveling – and when you look through – a promising porthole to a revolutionary new space." – Sheila Pepe, 2021